Brad Pitt Yelled To Get Jennifer Aniston's Attention At SAG Awards 2020
By Emily Lee
January 21, 2020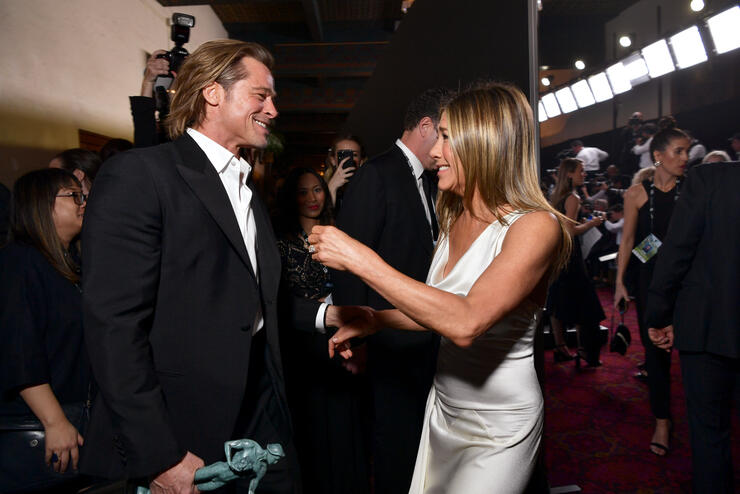 So no one told you Brad Pitt and Jennifer Aniston reunited at the SAG Awards? Well, they did and it definitely made our day, week and year. Not only did they both take home the coveted award in their own categories, Pitt reportedly went out of his way to get his ex-wife-turned-close-friend's attention backstage shortly after.
Vivien Killilea Best, the professional photographer who captured the viral reunion photos, opened up about the lovely moment on her Instagram account. "The reunion you've all been waiting for happened tonight. And it was captured for you to see by Vivien Best Photography, she wrote. "I was backstage at the SAG-AFTRA awards and heard a familiar voice shouting 'Aniston! ANISTON!' I turned around and saw this gem of a moment happen."
In the photos, Pitt and Aniston can be seen grinning at each other and briefly embracing. When asked about reuniting with Pitt, Aniston told Extra: "We've all grown up together. We really have. It just feels like a really fun night to celebrate and cheer each other on and keep working." As for the fans who desperately hope the exes will give their relationship another try, Aniston believes they "don't really have much of a life." Despite the incessant speculation about their relationship, the Morning Show actress still thinks it's "nice to come out and put a pretty dress on and celebrate your friends and their work and inspire each other to keep going."
While Pitt and Aniston's relationship has been constant tabloid fodder since their split back in 2005, it appears the pair have always remained friendly despite the rumors insisting otherwise. Pitt attended Aniston's 50th birthday party last year, as well as her annual tree-trimming celebration back in December. Though they occasionally hang out, a source told TMZ the former couple mostly catches up at awards shows.
Photo: Getty
Chat About Brad Pitt Yelled To Get Jennifer Aniston's Attention At SAG Awards 2020