Michael Rainey Receives Over 300 Death Threats Ahead Of 'Power' Finale
By Peyton Blakemore
January 24, 2020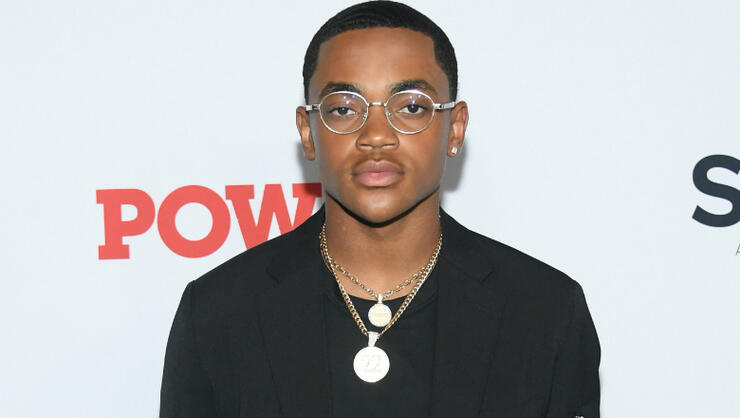 There are TV fans and then there are Power fans — the latter are known for their die-hard fandom.
Ahead of the airing of the series finale of the Starz show, Michael Rainey, who plays Tariq, revealed that he's been receiving death threats.
On Thursday (January 23), the 19-year-old actor took to Instagram to reveal that he's received over 300 threats against his life since 50 Cent, who created the show with Courtney Kemp, teased possible endings to the series. "Me going through my dms tryna figure out why I have 326 death threat messages 🤨🤨," Michael captioned a series of photos of himself with a confused look on his face.
Earlier this week, 50 leaked several endings of the series to confuse fans about who shot James "Ghost" St. Patrick, portrayed by Omari Hardwick. In one version, Michael's character shoots and kills his father, Ghost — an extremely believable scenario given Tariq's hate for his dad — which may explain the hundreds of death threats.
Michael's co-stars LaLa Anthony and Naturi Naughton both left facepalm emojis in reaction to Micheal's Instagram post about the threats.
Check out more reactions below.
LMAO Tariq out there getting death threats and all he did was accept a role lmfaoo #PowerTV

— Jack⁴ - wole soyinka (@everestnow_) January 24, 2020
They sending Tariq death threats 😂😂😂😂 if he know what's good for him he better take them seriously cuz I know how I feel bout him.... show or not... who told him to act that good smfh

— Mirror Monk (@mirror_monk) January 23, 2020
People really sending Tariq death threats??? Y'all weird weird

— Florence THOTingale (@GhettoBasquiat) January 24, 2020
Ain't nun funny about Tariq from power getting all them death threats cuz of his character from a show. Y'all mfs is crazy fr

— The Koolaid Connoisseur (@iamwilliewill) January 23, 2020
Baby, I AM SCREAMING!!!

My Coworker: What are you laughing at?
Me: Folks sending Tariq from #Power death threats for killing Ghost in real life.
My Coworker: GOOD, I can't stand his ass!!
Me. 😂😂😂😂😂😂😂😂😂😂😂😂😂😂 pic.twitter.com/4xfEzsDaBt

— ❤️Tabitha❤️ (@ImBeautifulSol) January 23, 2020
The sixth and final season of Power airs Sunday nights at 8 p.m. on STARZ.
Photo: Getty Images
Chat About Michael Rainey Receives Over 300 Death Threats Ahead Of 'Power' Finale