Halsey Sings 'You Should Be Sad' & 'Finally // Beautiful Stranger' On SNL
By Paris Close
January 26, 2020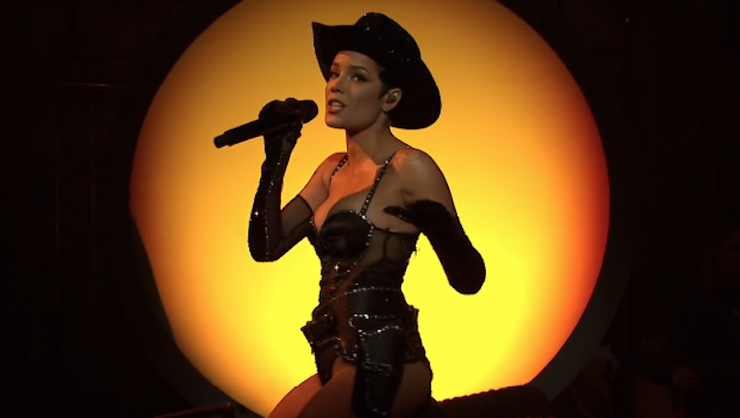 Halsey set the bar high with not one, but two memorable performances on Saturday Night Live.
The songbird, who made her return to the SNL stage last night (January 25), opened her highly anticipated set with the first televised performance of her country-inspired single, "You Should Be Sad." Much like she did for the song's music video, Halsey opted for her signature cowgirl look with a cowboy hat and matching boots, only this time encrusting her ensemble in rhinestones.
After appearing in the skit "Slow" with SNL host Adam Driver, the pop star hit the stage once again to mellow things out with a cool, soul-bearing performance of her song "Finally // beautiful stranger." Wearing a ruffled long-sleeve white top and wide-legged pants, Halsey shone brighter than ever for her lone star presentation.
Both "You Should Be Sad" and "Finally // Beautiful Stranger" appear off the recording artist's long-awaited third studio album, Manic. As previously reported, the musician will be taking her new record on the road for her "Manic World Tour," with shows in North America starting in June — get the tickets here.
Halsey is nominated at this year's iHeartRadio Music Awards in several categories, including Best Female Artist and Best Collaboration! Social voting is open now, and will close on Monday, March 23rd at 8pm ET/5pm PT for all categories, except for Best Fan Army which will continue through Friday, March 27th at 9am ET/6am PT. Fans can vote using the appropriate category and nominee hashtags or by visiting iHeartRadio.com/awards.
Watch Halsey's SNL skit and musical performances below.