Nicki Minaj Accuses Meek Mill Of Beating Women, Rapper Responds
By Hayden Brooks
February 5, 2020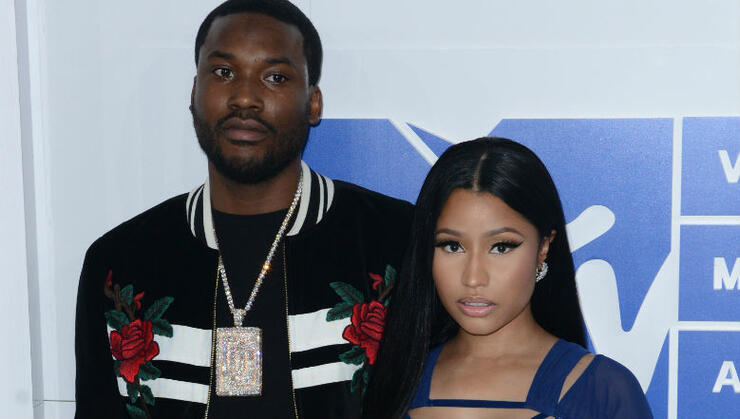 Seems like the tension from Nicki Minaj and Meek Mill's store run-in still hasn't blown over.
On Wednesday (February 5), the hip-hop titan took to social media to blast her ex over a claim that he's physical abusive with women. "Trigger fingers turn to #TwitterFingers bad built face ass obsessed with the Queen," she tweeted, alongside a photo of the rapper on his phone. She followed up the diss with allegations that Mill was intimated by their shouting encounter, alongside husband Kenneth Petty. "Ni**a been tweeting bout my man for a year now. Talking bout he went to my page to see him but he was blocked. My ni**a, move on. I know ya btch embarrassed. Sh**ted yaself in that store when u got pressed tho," she continued.
Meek didn't take lightly to the claims and went in on the rapper, pushing back on the physical abuse bit. "The only way you can try to kill my career is to say I beat women," he replied. "talk about ya brother convicted of rape and you been knew and paid for his lawyer ... ya little brother touched that lil girl too! You know I know ... you want me to crash with ya boyfriend and I won't."
He continued his tirade, saying, "You sad you willing to crash your man because you losing now and everybody in the industry know you a bad person! You been knew your brother was raping that little girl that's why I got away from you!"
Minaj's response revealed another blow after she claims that Mill was abuse with his sister. "You beat your own sister and taped it," she wrote. "Spit on her & taped it. Kicked me in front your mother and sent her to the hospital. Sucking drake d*ck made u feel tough again. Move on." Click here to see more of their back and forth exchange.
Minaj's lashings against Meek were likely spawned after the rapper liked an Instagram post shading Petty's style. To quote her previously-teased track ... Yikes.
Chat About Nicki Minaj Accuses Meek Mill Of Beating Women, Rapper Responds