Oprah Winfrey Tears Up While Discussing Gayle King's Kobe Bryant Backlash
By Hayden Brooks
February 7, 2020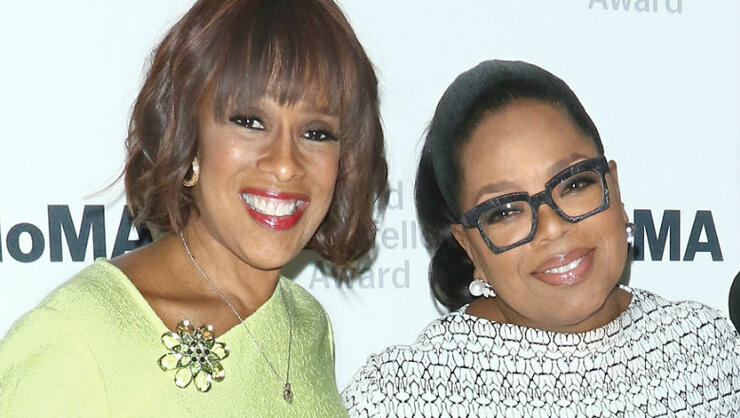 Gayle King has been under the media's magnifying glass after asking WNBA star Lisa Leslie about the late, great Kobe Bryant's 2003 rape case, and best friend Oprah Winfrey is in turmoil over the situation.
On the Friday (February 7) episode of Hoda & Jenna & Friends, the media titan, 66, teared up while discussing King, 65, and her unfortunate situation, admitting that her confidant has even received death threats. "I think the last 24 hours for your best friend have been pretty difficult after that interview with Lisa Leslie about Kobe. And I just wondered just how she's doing," co-anchor Hoda Kotb, 55, asked, to which Winfrey began to tear up. "She is not doing well. She has now death treats and has to now travel with security and she's feeling very much attacked. You know, Bill Cosby is tweeting from jail."
Winfrey went on to reveal that King feels like she has been put in a "terrible position" over the clip, which was reportedly not meant to be released as it was. "In the context of the interview, everyone seemed fine, including Lisa Leslie. And it was only because somebody at the network put up that clip. And I can see how people would obviously be very upset if you thought that Gayle was just trying to press to get an answer from Lisa Leslie," she continued. "Obviously all things pass, she will be okay, but she hasn't slept in two days."
"It's not just the people who are attacking. It's the other people who take that message and feel like they can do whatever they want to because of it, you know?" she explained, emphasizing her continued support for King as she navigates the public scrutiny. "You know, I was on the phone with her this morning, I was on the phone with her last night, I was on the phone with her the night before. I think you stand in the gap, you try to be there for your friends. But this is very hard, because when you have social media and the force of social media, and particularly people who didn't see either interview, making attacks."
As you know, King took to Instagram to defend herself, calling out her network for sharing an "out of context" clip. "I know that if I had only seen the clip that you saw, I'd be extremely angry with me too," she said in a lengthy video message. "I am mortified. I am embarrassed and I am very angry. Unbeknownst to me, my network put up a clip from a very wide-ranging interview — totally taken out of context — and when you see it that way, it's very jarring. It's jarring to me. I didn't even know anything about it," she continued. "I've been advised to say nothing [...] but that's not good enough for me because I really want people to understand what happened here and how I'm feeling about it."
Chat About Oprah Winfrey Tears Up While Discussing Gayle King's Kobe Bryant Backlash