Ariana Grande Spotted Kissing Mystery Man At Bar: See The Footage
By Hayden Brooks
February 11, 2020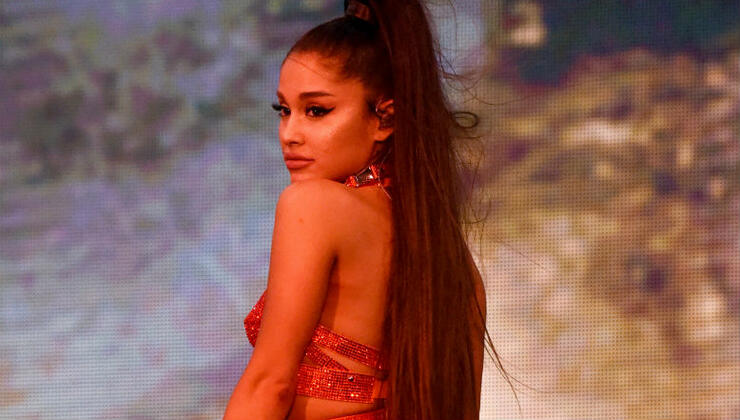 We already know that Ariana Grande isn't afraid of a little PDA, so it wasn't too surprising to see the pop titan locking lips with a mystery man over the weekend.
On Tuesday (February 11), TMZ shared footage of the pop titan, 26, getting cuddly and kissing a man on late Saturday night at a spot called Bar Louie in Northridge, California, which is on the outskirts of central Los Angeles. Insiders close to the outlet revealed that she arrived at the gastropub around 1 AM with friends, including the mystery gentleman. She reportedly did nothing more than order a water and get up close with the unidentifiable man. During the outing, a nearby DJ played her hit, "God is a Woman," but the star asked him to switch up the music. They crew stood for about 30 minutes, while everyone (sans Grande) ordered wine and cocktails. Click here to see footage of the outing.
While no one has identified Grande's mystery fella, it doesn't look like Social House singer Mikey Foster, who she's been romantically linked to as of late. Her brother Frankie has denied the ties to Foster, but that doesn't change the fact that they've been hanging out a lot.
Pete Davidson was the star's last public lover and a topic of conversation in her 2019 interview with Vogue, where she discussed being single after their October 2018 split. "I think that this [Thank U, Next] is the first album and also the first year of my life where I'm realizing that I can no longer put off spending time with myself, just as me," she said. "I've been boo'd up my entire adult life. I've always had someone to say goodnight to. So Thank U, Next was this moment of self-realization. It was this scary moment of 'Wow, you have to face all this stuff now. No more distractions. You have to heal all this sh*t.'"
Chat About Ariana Grande Spotted Kissing Mystery Man At Bar: See The Footage