Meghan Markle & Prince Harry To Reunite With Prince William, Kate Middleton
By Emily Lee
February 11, 2020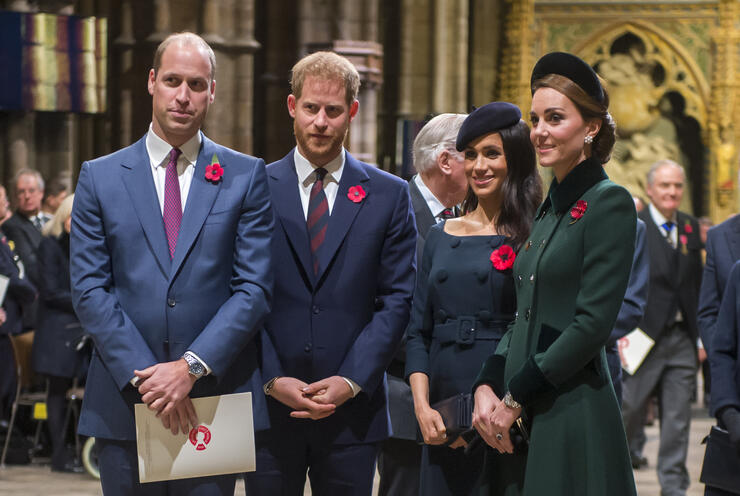 Prince Harry and Meghan Markle are no longer full time working members of the Royal Family, but that doesn't mean they'll never participate in royal engagements even again. In fact, the Duke and Duchess of Sussex will return to England in the near future at the request of Queen Elizabeth. Her Majesty invited Harry and Meghan to attend the annual Commonwealth Service with the rest of the Royal Family and it's believed they will attend.
The Commonwealth service will be part of Meghan and Harry's "final round of official engagements before returning to their new base in Canada," according to the Sunday Times. Though Archie has remained in Canada since Thanksgiving of last year, the Times also reports that his mom and dad will bring him to England for their visit.
The annual service will be held on March 9th this year at Westminster Abbey. The Commonwealth Day service is one of the only engagements all senior royals attend, which makes it a highly anticipated event for royal watchers. Prince William and Kate Middleton are expected to be in attendance, as well, so the Sussexes and Cambridges will have their first reunion since 'Megxit' at the service.
Though Harry and Meghan are reported to have no regrets about their historic decision, William and Kate are believed to be less thrilled with the new situation. Kate, in particular, was upset by Harry and Meghan's choice to leave the royal life behind. "Kate's in a panic and has been having bouts of anxiety. She barely has time to rest, and when she does try to sleep, her mind is constantly racing," a source divulged to Us Weekly. Kate has reportedly been working 18-hour days lately and is "stretched pretty thin."
Not only is Kate worried about an increased workload since the Sussexes' departure, she also fears she and Harry will never be close again after all the drama. According to another Us Weekly source, Kate has been "crying over the literal and figurative distance between herself and her brother-in-law." Communication between the in-laws appears to be limited, as well, as Kate "wishes she could speak to Harry. She misses him and fears she'll never be close to him again."
Hopefully, Kate will get the chance to have a heart-to-heart with Harry and Meghan when the reunite at the Commonwealth Day Service next month.
Photo: Getty
Chat About Meghan Markle & Prince Harry To Reunite With Prince William, Kate Middleton