Justin Bieber Gushes Over His And Hailey Baldwin's Sex Life
By Hayden Brooks
February 12, 2020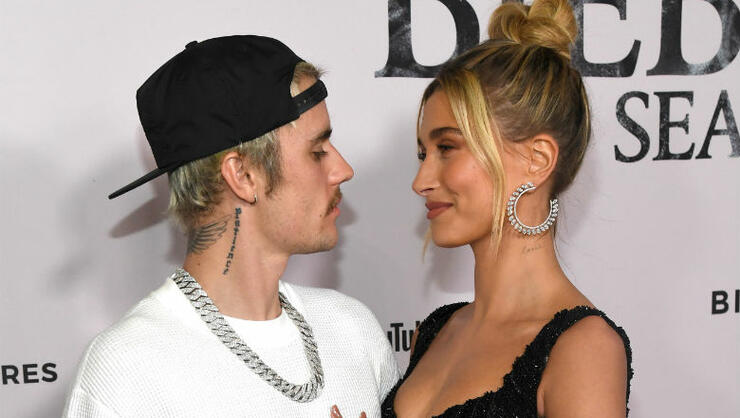 Justin Bieber was as candid as can be about his and Hailey Baldwin's sex life.
During a fan Q&A at London's Indigo at The O2 on Tuesday (February 11), the pop superstar, 25, briefly spoke about his intimate connection with his wife, 23. Asked what he likes to do in his spare time, the star said, "So when I'm with my wife, we like to...You guys can guess what we do all day. It gets pretty crazy. That's all we do." "We like to watch movies, we like to Netflix and chill – but we definitely do more of the chilling," he added, as per Metro.
As for his thoughts on marriage, the comeback kid, who is in town to promote his upcoming album, Changes, admitting that it's awesome but takes a lot of work. "Being married is so awesome. I'm telling you, but don't get it twisted, marriage is not easy. It's something you got to work for," he explained. "If marriage was easy, everyone would do it really fast. Everyone would just do it. So you guys want to have children, and want to get married, just know that it takes work every day."
Earlier this week, Bieber's latest episode of his YouTube docuseries, Seasons, revealed just why the pair got married so quickly. "It was really funny because we got engaged, and we we were like, 'Yeah, we're not in a rush to plan a wedding. We're chilling,'" she explained, before confessing of a last-minute change in priorities. "We wanted to live together, we wanted to move in together, and we didn't believe in doing that until we were married, so we got legally married."
As you know, the pair took to a courthouse in September 2018 for a private ceremony, before doing it in front of family and friends in October. It was a big step for the pair, who had briefly dated in 2016, but the quick decision also gave each other the opportunity to grow as a couple as they shared a roof over their head. "Moving in together and living together and getting to share space with each other and just keep learning more about each other just took away all the pressure of the scary part of getting married," she explained during the episode. Still, the star confessed that she didn't want to look back and say she never got to walk down the aisle alongside her father.
Expect more from Bieber as he is set to perform live at our 2020 iHeartRadio Music Awards. Aside from performing during this year's iHeartRadio Music Awards, he is also nominated in five categories including Best Collaboration and Best Music Video for his Ed Sheeran collab "I Don't Care," Best Lyrics for his song with Dan + Shay "10,000 Hours," Best Remix with Billie Eilish on their updated version of "Bad Guy," and last but not least, his Beliebers are nominated for Best Fan Army. Fans can watch the 2020 iHeartRadio Music Awards live on FOX on Sunday, March 29th at 8pm ET. The event will also be broadcast on iHeartMedia stations nationwide and on iHeartRadio.
Chat About Justin Bieber Gushes Over His And Hailey Baldwin's Sex Life