Maren Morris Scores No. 1 with "The Bones" + BOY is she EMOTIONAL
By Lauryn Snapp
February 12, 2020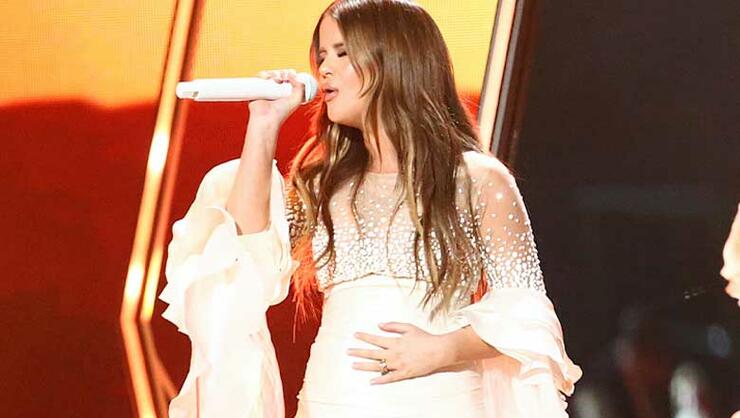 Oh, BOY! Maren Morris and Ryan Hurd are expecting their first child any day now and are celebrating Maren's song "The Bones" striking at the top of the charts after only 25 weeks. 
According to chart data, Maren's tune is the first solo song by a female artist to take the #1 spot on country airplay since Taylor Swift's 2009 smash, "You Belong With Me." 
WOW. 
Maren recently joined CMT's Cody Alan, who is leading the charge on instituting 50/50 airplay. Cody's playlisting priority features complete parity between male and female artists. Cody shared the news on Instagram, saying, "Women's voices should be heard more often in country music. While there's been a lot of talk, there's been very little action to change. But I'd like to try on the radio. So starting now on my show, CMT Radio Live with Cody Alan, you'll hear "Equal Play" of both female and male artists… Let's change it up! #CMTEqualPlay" 
Ahead of Maren's number one, the "My Church" singer sat down with Cody and shared why "The Bones" is emotional for her. 
"I think that this is such a great song for everyone to hear because it is about the foundation of a great relationship," primed Cody. "When it comes to you, who is your foundation?" 
"There are so many pillars," Maren replied. "My parents and Ryan's [parents] have both been married for decades and decades. Looking at how they built their families been a huge influence on the two of us. So much of my foundation with Ryan is through music…We have really built this life out of our dream of music and are really lucky to get to do that." 
Maren glowed and continued to share that she and Ryan recognize that this is a special season. "I think that a song with the message of "The Bones," it's kind of hitting even harder now that we are about to bring a child into the world. I wrote this song years ago, when Ryan and I were just dating and now, I look at how much my life has changed. The fact that this song could potentially be a number one in the same season of us starting this huge chapter of our lives, it makes the sentiment even more emotional." 
RELATED: 13 COUNTRY SINGING CELEBS WHO COUPLED UP.
Maren continues to break through with her resounding lyrics and dulcet ear-candy melodies. She is also planning to shock fans by performing at the Houston Rodeo on March 7, while nine months pregnant. 
"It's a pretty crazy concept," she shares during an appearance on the Ty Bentli Show (quote via Nash Country Daily). "I took the show offer before I was pregnant. It's such an iconic thing to get to do, especially being from Texas. So when I found out that I was pregnant, I was like, 'Oh my god, being nine months pregnant at the Houston Rodeo would be kinda badass.'
She isn't wrong. 
Photo Credit: Getty Images.