Billie Eilish Says Her 2020 Oscars Performance Was 'Trash'
By Hayden Brooks
February 14, 2020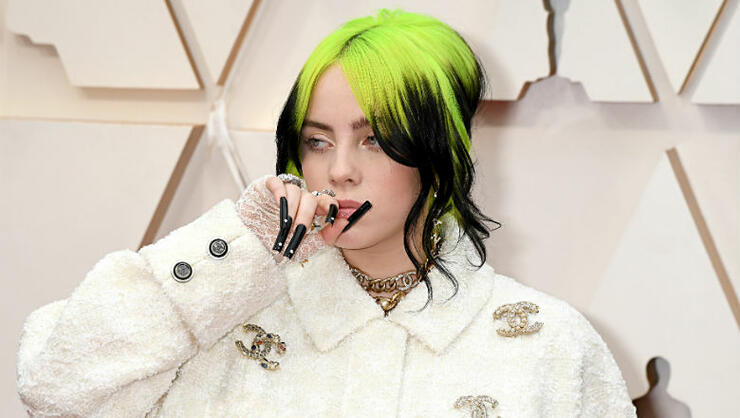 Billie Eilish is reveling in a career highlight with the release of her James Bond theme song, "No Time To Die," but the pop superstar is feeling under the weather and it seems as if she's been sick for the last week.
"I was sick for all of the Oscars. I bombed that performance," Eilish, 18, said during a recent interview, in which she appeared to still be feeling sick. "That was trash. The Oscars is not my people. I'm not used to that. At least the Grammys wasn't as scary because it was, like, artists. And it felt like my people, it felt like, 'Oh, look, a bunch of artists!' And I knew a lot of them already and I'd met them and they knew of me."
On Sunday (February 9), Eilish took to the 2020 Oscars stage to sing a cover of The Beatles' "Yesterday" during the In Memoriam segment, which was introduced by Steven Spielberg. Alongside FINNEAS on piano, the star donned all black to sing a somber rendition of the 1965 track on the Dolby Theater stage. Among the photos and names that appeared during the segment included Kirk Douglas, Doris Day, and a moment for the late, great Kobe Bryant.
In related news, Billie Eilish is nominated at this year's iHeartRadio Music Awards in several categories, including Song of the Year, Best Music Video, and Alternative Rock Song of the Year! Social voting is open now, and will close on Monday, March 23rd at 8pm ET/5pm PT for all categories, except for Best Fan Army which will continue through Friday, March 27th at 9am ET/6am PT. Fans can vote using the appropriate category and nominee hashtags or by visiting iHeartRadio.com/awards. Fans can watch the 2020 iHeartRadio Music Awards live on FOX on Sunday, March 29th at 8pm ET. The event will also be broadcast on iHeartMedia stations nationwide and on iHeartRadio.
Chat About Billie Eilish Says Her 2020 Oscars Performance Was 'Trash'