Dave Mustaine Still Unwilling To Relinquish Credit On Early Metallica Music
By Andrew Magnotta @AndrewMagnotta
February 17, 2020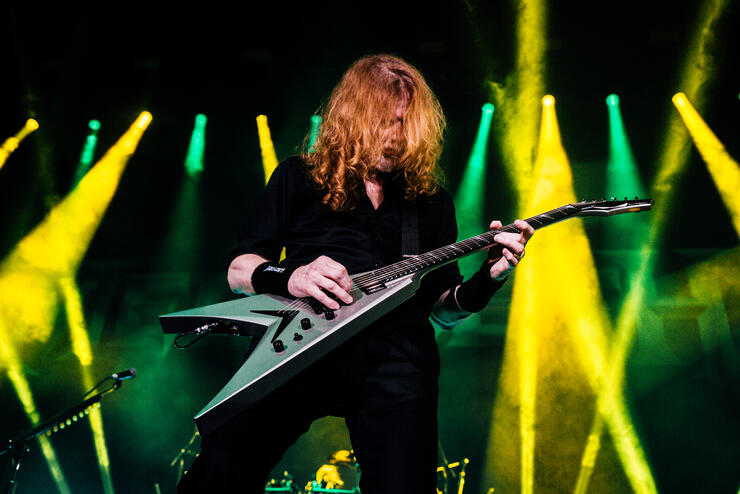 Dave Mustaine is not giving up ground in a years-long dispute with Lars Ulrich over writing credit on Metallica's earliest material.
While Metallica has unveiled expanded editions of each of its studio albums from the '80s, the band's 1982 demo No Life 'Til Leather, by Ulrich's own admission, over the question of publishing royalties.
In an interview with Kerrang!, Mustaine recalled a conversation with James Hetfield in which the Metallica frontman attempted to convince him to give a portion of the writing credit on the remaining music to Ulrich.
"Lars wanted a percentage, and I just said no," Mustaine said. "I love James, he's a terrific guitar player, but yeah, I can't do that. The songs are already out there. I'm not going to release something just to have a product to sell — especially if they are perpetuating false information. Lars did not write the songs. It was just me and James. Period."
Ulrich explained in 2016 that despite Metallica's vision for the 27-song No Life 'Til Leather box set, there were "unexpected difficulties on the legal side."
"We spent some time doing that dance, but then James and I decided that it wasn't worth it getting bogged down in all the unpleasantries, because this was supposed to be a celebration and not end up being a tug of war," he said.
Metallica ended up skipping the reissue of the demo and going straight to a reissue of its debut LP, Kill 'Em All.
Ulrich declined to elaborate more than to say that the legal questions were "complicated."
Mustaine and Ulrich are longtime rivals. While Mustaine often praises Hetfield, he rarely passes up an opportunity to take a swipe at Ulrich through the press.
Megadeth is currently in the home stretch of a European tour with Five Finger Death Punch. This June, Mustaine and company head out on a 55-date North American tour with Lamb of God.
Metallica has a little over a dozen tour dates on its schedule for this year, including several appearances at U.S. rock festivals. Get all the tour dates here.
Photo: Getty Images