'The Umbrella Academy' Teases Season 2 With Brand-New Posters
By Lindsey Smith
February 19, 2020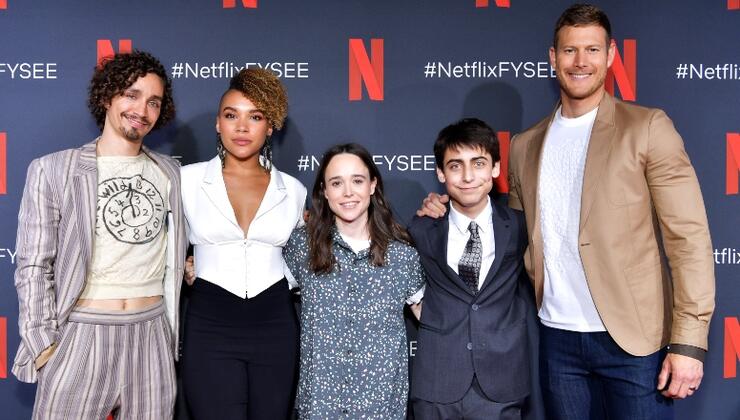 It's been a whole year since The Umbrella Academy premiered on Netflix and fans are desperately waiting for information about a new season.
The breath-taking adaptation of My Chemical Romance's Gerard Way's comic book series finally began giving fans of the show a sneak peek into season 2 on Wednesday (February 19).
While it was confirmed in April of last year that a second season of the Emmy-nominated show was going to happen, The Umbrella Academy just dropped its first set of posters for the second installment of the series.
Each colorful poster features The Umbrella Academy's iconic umbrella logo and focuses on the eyes of each of the Hargreeves siblings.
Spoilers ahead
Fans who have watched the show already will remember that "Allison's" throat was slit with "Vanya's" violin bow and she was in grave danger of dying. While her siblings were able to save her, it doesn't seem like she'll be able to talk which would render her powers useless since she relies on her voice.
While we don't know the details just yet of "Allison's" fate on the show, it seems like she'll be in the second season (and rocking bangs!).
Fans are more than excited to get more details about the show. "STOP IM GONNA HAVE A STROKE," one fan commented on Instagram. "SO HYPEEE. also ben finally having his own poster?? hell yeah!!" another fan said.
Season 1 ended with the siblings time traveling as "Vanya" brought on the apocalypse leaving us all wondering what the future holds for her and her siblings.
While there is no release date set yet, the show gave fans one small hint about season 2's storyline by tweeting, "hang on. this could get messy…" and "When are they?" on the official season 2 poster.
Photo: Getty Images
Chat About 'The Umbrella Academy' Teases Season 2 With Brand-New Posters