Chance The Rapper Shares Throwback Video Of Lizzo Interviewing Him Pre-Fame
By Lauren Crawford
February 20, 2020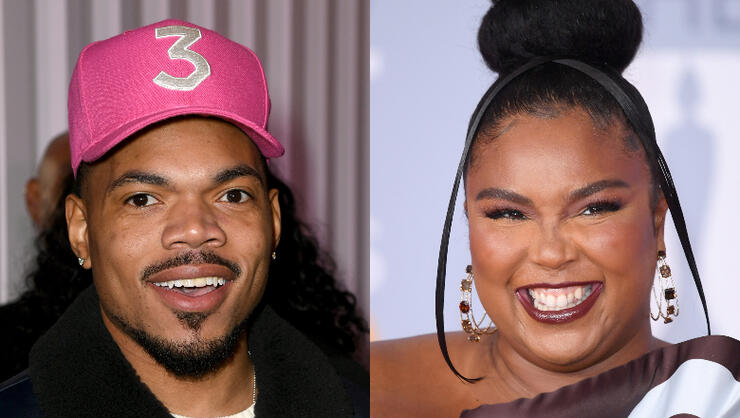 If you're looking for a video that gives you all the feels while simultaneously capturing one of the most full-circle celebrity moments ever... look no further.
On Thursday (February 20), Chance the Rapper shared a throwback video to Instagram that showed him being interviewed by then up-and-coming artist/ music journalist Lizzo ahead of the release of his breakout mixtape, Acid Rap. While the clip is less than 20 seconds long, it somehow manages to perfectly capture Lizzo's musical genius and Chance's always palpable excitement about his music.
"#tbt anybody recognize the woman interviewing me??" Chance captioned the heartwarming post. "Give you a hint we're playing the same Houston festival in a couple weeks and have the same number of GRAMMYs." He continued, "Guys, this video is so dope to see. It was 2012, a year before Acid Rap even dropped, and I was being interviewed for a small magazine in Minneapolis called GreenRoom, right after a small show I was playing. I remember it like it was yesterday and it was EIGHT years ago. Wow man."
Chance went on to praise Lizzo's work ethic and talent, saying, "I've watched Lizzo work her a** off to become the biggest act in the world and it was nothing but her and her day 1 bestfriends' hard work, and her own God given Talent. I am immensely proud of her and so inspired by her journey. Life is crazy 💙 ."
In the clip, Lizzo asks Chance about his music, saying, "Let's talk about your style... You have a very eclectic choice in your beats. You choose from Beirut, Apollo Brown, you have a Waka Flocka joint." However, before she's even able to get to her question, a visibly impressed Chance replies "that's dope that you" know that.
Check out Chance and Lizzo's full-circle moment below!