Lady Gaga Reveals New Album Title 'Chromatica' & Release Date
By Taylor Fields
March 2, 2020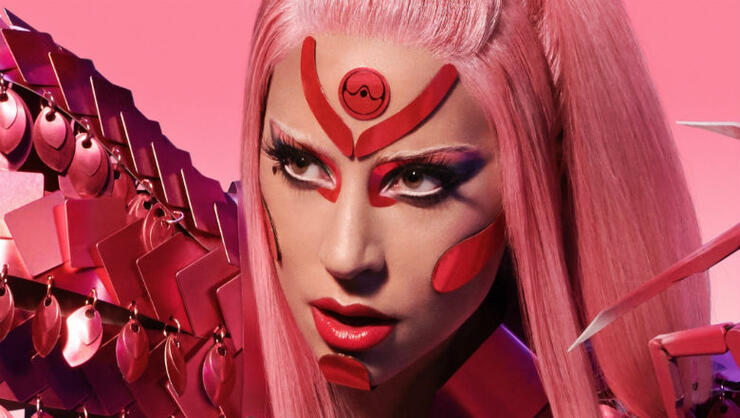 Just days after releasing her new single "Stupid Love," Lady Gaga has officially revealed the title of her new upcoming album AND its release date (and it's coming very SOON)!
Lady G took to social media to announce that her forthcoming sixth album is (as many Little Monsters correctly guessed) called Chromatica and that fans can look out for the album to drop next month on April 10th — so the countdown is ON! The pop superstar wrote, "Welcome to 'Chromatica', coming April 10. Pre-order now."
Along with the caption is an image of a pink circular symbol, which fans have already seen in the lead up to the debut of "Stupid Love." However, the image is not the actual album cover, as Gaga explained, "This is not the album cover but we made it for you to enjoy in the meantime."
Fans have been speculating that Chromatica was the album's title since Lady Gaga formally announced her new single with a billboard. In the lefthand corner of this billboard is "LG-6" — aka Lady Gaga's sixth album — and in tiny lettering at the very bottom is the word "CHROMATICA," which was also displayed next to the several images on the right in a pink font (but sideways). Lady G also has been using the hashtag #Chromatica on social media.
"Stupid Love" is Chromatica's lead single and was produced by BloodPop® and French producer/DJ Tchami, and co-written by pop songwriting veteran Max Martin.
Aside from her music from A Star Is Born and 2017 single "The Cure," "Stupid Love" is Lady Gaga's first new music since her last album, 2016's Joanne. Is it April 10th yet?
Chat About Lady Gaga Reveals New Album Title 'Chromatica' & Release Date