Country Music Community Reacts To Deadly Nashville Tornado
By Blake Taylor
March 3, 2020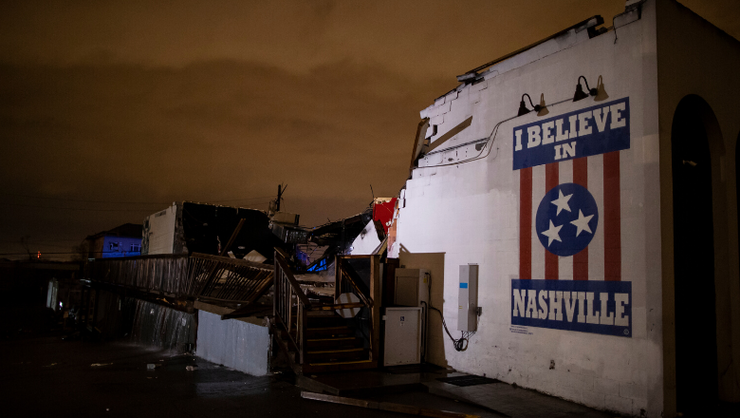 The country music community woke up on Tuesday morning (March 3) to some devastating news about their beloved city of Nashville, Tennessee. Overnight, a deadly tornado ripped through parts of Downtown and East Nashville, destroying everything in its path.
According to The Associated Press, the tornadoes caused over 40 buildings to collapse in and around downtown before making its way to Hermitage and on to Lebanon and Mt. Juliet. Most recent reports state the death toll has jumped to 25 after police and fire crews spent hours pulling survivors and bodies from destroyed buildings.
A shelter for those in need has been established at the Nashville Farmers Market located at 900 Rosa L. Parks Blvd. Those interested in helping the Nashville community can donate to The Community Foundation of Middle Tennessee's Middle Tennessee Emergency Response Fund here.
As the news spread this morning, the country music community turned to social media to check in, letting followers know they are safe and offering their support to others in this hard time. Artists like Dan + Shay, Jake Owen, Reba McEntire, Dierks Bentley and more have shared updates which can be seen below.
We are ok. I'm in New York and Maren and our house are fine, but our neighborhood is not. Places we have loved for many years don't look like they are there any more. We are so thankful and devastated at the same time.

— Ryan Hurd (@RyanHurd) March 3, 2020
For all reaching out asking if the show is ok... everyone with our team is safe in Nashville. Thank you for reaching out and caring. There are a lot of people who aren't in our area though so please keep your prayers out for them. ❤️

— Bobby Bones Show (@bobbybonesshow) March 3, 2020
Oh nashville. 💔 very sad morning. how do we start to help? point me in the right direction and let's start helping and healing.

— Kelsea Ballerini (@KelseaBallerini) March 3, 2020
Big tornado ripped through my favorite spots in Nash tonight. Including right across the street from me. Hope all my Nash ppl are okay especially my neighbors.

— Abby Anderson (@abbya_music) March 3, 2020
I'm thankful for the well wishes here in Nashville from everyone. There are people that have lost loved ones and their homes. We as NASHVILLE will stand together and help anyone and everyone in need. That's why I'm proud to live here and call it home.

— Jake Owen (@jakeowen) March 3, 2020
The dogs, our home and I are safe. Thank you to everyone who reached out. My thoughts are with those who lost their homes and businesses during this crazy tornado. The storms aren't over so stay safe and sheltered, Nashville 🙏

— Cassadee Pope (@CassadeePope) March 3, 2020
We ducked around this cell and landed at john tune airport around 11:30 last night. Glad we landed when we did. Wouldn't have been good an hour later. It was the cell that turned into the tornado. Lot of people lost their homes. No one comes together as a city like Nashville does pic.twitter.com/qvCjrYNu0x

— Dierks Bentley (@DierksBentley) March 3, 2020
My heart, thoughts and prayers go out to everyone in the Nashville area affected by the tornado last night. Even if the tornado didn't hit our personal space, we are all affected because we are Nashvillians. My heart… https://t.co/S6dpfGfgg1

— Reba (@reba) March 3, 2020
Chat About Country Music Community Reacts To Deadly Nashville Tornado