Katy Perry's Grandmother Dies Days After Singer Announces Pregnancy
By Paris Close
March 9, 2020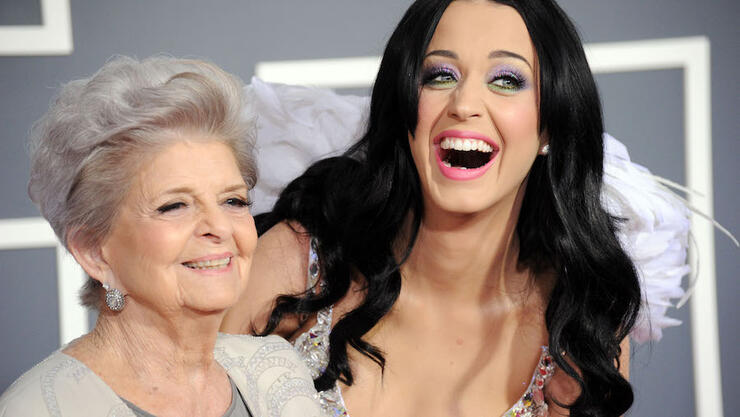 Katy Perry's grandmother, Ann Pearl Hudson, has passed away.
The singer-songwriter, who is six months pregnant with her first child with fiance Orlando Bloom, delivered the heartbreaking news early Monday morning (March 9). "A song for Grandma. May she rest in deep peace. ❤️ Ann Pearl Hudson ❤️" the star shared in a tweet before taking to Instagram with a lengthier tribute for her grandma, who died on Sunday.
"I don't know when a soul enters a new vehicle but if there is an afterlife where there's a waiting room of the coming and going my mind wonders if the soul that is waiting to come into my world is getting a kiss on the forehead from my sweet Grandma that departed this earth yesterday. My heart hopes so," Perry wrote on Instagram with a gallery of touching photos and videos of Ann.
"A lot of what I am is because of my father... and he is because of her. She started it all, as she used to remind us and I'm so grateful she did," she continued. "Family... is there to show us what love can be... sometimes that journey of finding the love is tough to get to AND through but if you can open your heart and let the light lead the way you will find that incomparable love. Ann Pearl Hudson was a fighter. She survived the Great Depression, raised 3 kids on her own as a seamstress, making G strings for showgirls and other such characters in Vegas. She was always authentically herself, funny and full of all the sweet cozy things you think of when you think of grandmas."
She concluded: "When my whit comes out, that's Ann. When my authenticity comes out, that's Ann. When my stubbornness comes out, hell, that's Ann. When my fighter spirit comes out, that's Ann. When my style comes out, that's Ann. May she rest in deep peace and kiss the forehead of the soul to come and let them know everything is gonna be OK, especially now that they have gained an angel to look over them ♥️♠️"
Perry's heartbreaking loss comes just days after the Grammy-nominated musician announced she and Bloom are expecting to welcome their firstborn this summer. On the day of Ann's passing, Perry had performed for the very first time while pregnant at the Women's Cricket World Cup Final in Melbourne, Australia, where she also revealed she hopes to give birth to a girl.