Musicians And Celebrities Mourn Kenny Rogers
By Paris Close
March 21, 2020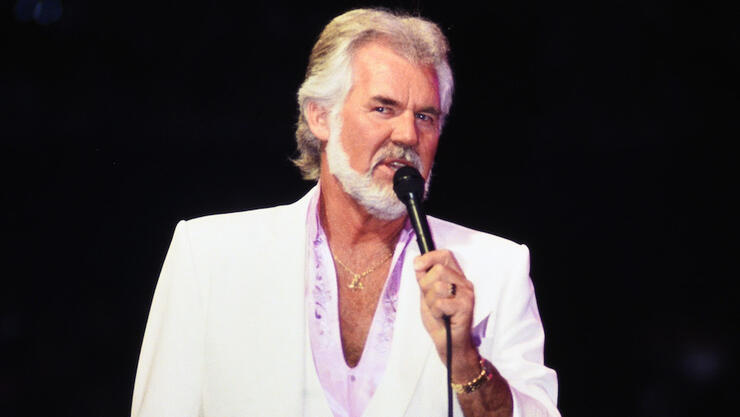 Dolly Parton, Blake Shelton, and many other stars are grieving the loss of Kenny Rogers this morning.
The country music legend, who died on Friday (March 20) at the age of 81, is being remembered all across social media in light of the crooner's passing. According to a statement from Rogers' rep, the musician "passed away peacefully at home from natural causes under the care of hospice and surrounded by his family."
In his wake, Rogers leaves behind a music career spanning six decades, involving classic songs like "Twenty Years Ago," "The Gambler," and "Lucille." He is survived by his wife, Wanda Miller, and his five children: Christopher, Jordan, Justin, Kenny Rogers Jr., and Carole.
Since the news broke, fans and celebrities alike have shared homages in Rogers' memory.
Fellow country superstar Parton, who was one of Rogers longtime music partners, issued a touching, heartfelt video tribute for her departed friend. "I loved Kenny with all my heart, and my heart's broken and a big ole chunk of it has gone with him today," she says in the clip. "And I think I can speak for all his family, his friends, and fans when I say that I will always love you."
"I'm so sad to see Kenny Rogers go," tweeted Richard Marx, who co-wrote the vocalist's song "Crazy" in 1984. "He did so much for me as a young songwriter and we stayed friends for over 30 years. I'll really miss him. May he rest easy."
"I can't express on twitter the impact Kenny Rogers the artist and the man had on me," tweeted Shelton, who considered Rogers an inspiration. "He was always very kind and fun to be around. Rest In Peace Gambler…"
Actor-comedian Patton Oswalt, who assisted the late icon on the TV show, Reno 911!, also remembered him fondly. "I was on an episode of Reno 911! where I played a crazed stalker who shoots Kenny Rogers," he recalled. The cast loved him, he told great stories, and was a joy to be around. And 'The Gambler' is a truly great song."
Scroll down for more tributes honoring Rogers' life and legacy below.
You never know how much you love somebody until they're gone. I've had so many wonderful years and wonderful times with my friend Kenny, but above all the music and the success I loved him as a wonderful man and a true friend. pic.twitter.com/hIQLIvt8pr

— Dolly Parton (@DollyParton) March 21, 2020
Also, I woke up the news of @_KennyRogers passing. It's not about #1s. It's about the legacy you leave behind and he was a great man. He changed Country Music and had a voice like no other. Thank you Kenny. Thank you. 🙏🏼

— Jake Owen (@jakeowen) March 21, 2020
I can't express on twitter the impact Kenny Rogers the artist and the man had on me. He was always very kind and fun to be around. Rest In Peace Gambler...

— Blake Shelton (@blakeshelton) March 21, 2020
I was on an episode of Reno 911! where I played a crazed stalker who shoots Kenny Rogers. The cast loved him, he told great stories, and was a joy to be around. And "The Gambler" is a truly great song. #RIPKennyRogers

— Patton Oswalt (@pattonoswalt) March 21, 2020
Oh man Kenny Rogers just died. RIP Gambler. Thanks for all the great music. 😌

— Larry The Cable Guy (@GitRDoneLarry) March 21, 2020
RIP Kenny Rogers

One of best to ever do it. From the Gambler to Lucille to Coward of the County to Islands in the Stream to Ruby to Love will Turn you Around to Just Dropped in to a ton more

Kenny made hits. Will miss him

I know KSR music for next weekpic.twitter.com/Crknt8NtZr

— Matt Jones (@KySportsRadio) March 21, 2020
Thank you Kenny Rogers for being a part of our lives for so long. Your songs are woven into the fabric of our memories, classics, that will live on in the musical heart of a world that will miss you so much.
Rest in peace Gambler

— Charlie Daniels (@CharlieDaniels) March 21, 2020
Rest In Peace to the great Kenny Rogers. I always loved Kenny's voice and appreciated his music. He was also so kind and generous. What a loss...

— Marc Lamont Hill (@marclamonthill) March 21, 2020
RIP Kenny . This was many years ago . The first time we met. On the radio show. For years after that, we maintained a friendly relationship off the air too. https://t.co/Pe7R11Vt9v

— Bobby Bones (@mrBobbyBones) March 21, 2020
Chat About Musicians And Celebrities Mourn Kenny Rogers