Kevin Bacon, Elton John, Demi Lovato & More Support #IStayHomeFor Challenge
By Paris Close
March 22, 2020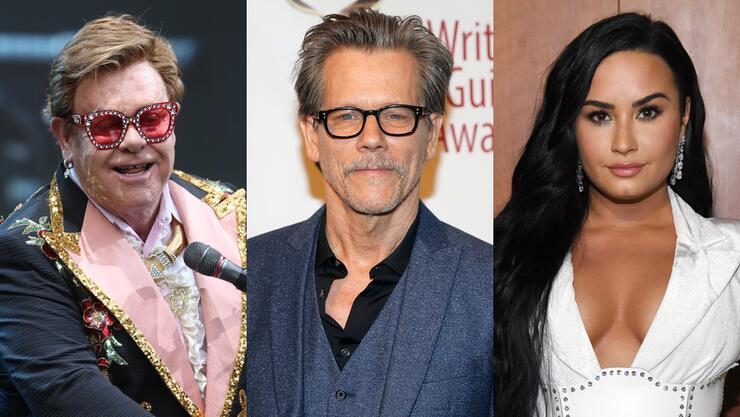 Kevin Bacon is encouraging celebrities and fans alike to stay inside amid the COVID-19 (coronavirus) outbreak with a new social media movement.
Earlier this week, Bacon issued the #IStayHomeFor challenge, a campaign that urges participants to "stay home and keep our distance from others" in order to lessen the chances of potentially passing the virus on.
"The more of us who can, make it safer for those who can't," the actor explained. "So if you're home too like me, post a video or photo with a sign like mine, telling who you are staying home for and ask 6 friends to do the same."
Since announcing the campaign, Elton John, David Beckham, Sam Smith, Demi Lovato and many other stars have shared messages inspiring followers to continue to practice social distancing during the pandemic, which has infected over 233,000 people across the world and has killed more than 9,800.
"Thank-you @kevinbacon for the nomination!!" wrote the "Rocketman" musician. "#IStayHomeFor @davidfurnish and our boys. Today it's snakes, ladders and staying inside to stop the spread of coronavirus."
The "I Love Me" songbird followed suit, sharing, "There's a lot of things going on in our world right now, but if there's one thing that matters it's spreading love. #IStayHomeFor my parents, my neighbors and my health 💗"
"This is a wonderful thing to do," Smith, nominated by John, wrote. "I stay home for my incredible family. This is unprecedented times and my thoughts and heart is with everyone right now. We are in this together 🙏🏻"
Scroll down to see why these celebrities and more have chosen to stay inside below.
Chat About Kevin Bacon, Elton John, Demi Lovato & More Support #IStayHomeFor Challenge