Alicia Keys Dedicates 'Underdog' To First Responders In Living Room Concert
By Hayden Brooks
March 30, 2020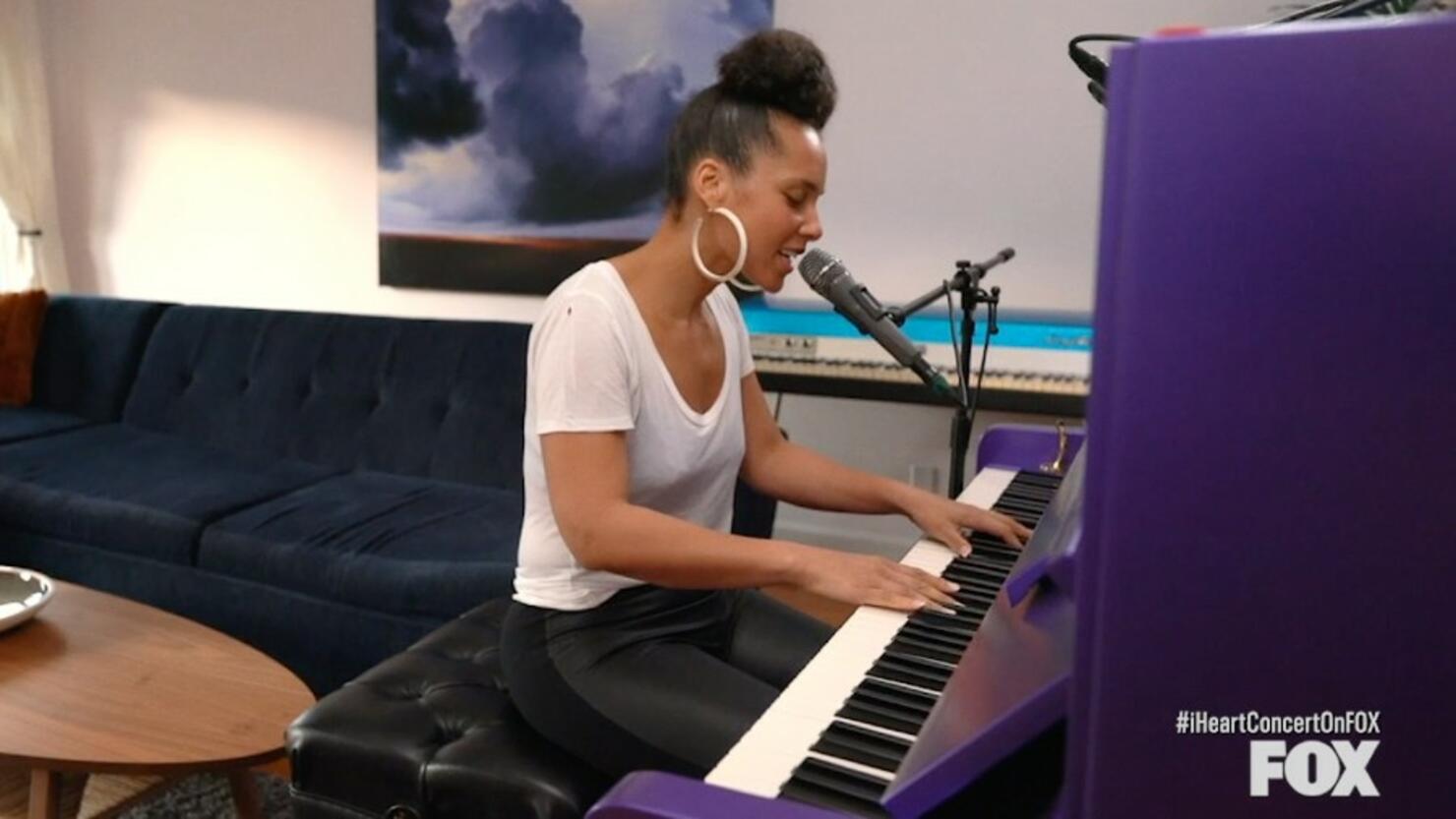 In an effort to honor the folks risking their lives to fight the COVID-19 pandemic, Alicia Keys kicked off the iHeartRadio Living Room Concert for America on the right note on Sunday night (March 29).
During the one-hour TV special, the superstar led a pack of performances, which also included Elton John, Mariah Carey and Billie Eilish, and she did so with her all-too-appropriate single, "Underdog." "This song is like a prayer. My hope is that we remember how resilient we are and how we defy the odds," Keys said while playing the opening piano notes of the empowering track. "I'd like to dedicate this song to the first responders and medical professionals that are risking their life to keep us safe. So grateful."
For the number, viewers saw Keys churn out a stripped-down version of the track directly from her Los Angeles living room, tweaking the lyrics to pay homage to the individuals battling against the coronavirus pandemic. "So I sing a song for the hustlers trading at the bus stop/ Single mothers waiting on a check to come/ Young teachers, student doctors/ People on the front line knowing they don't get to run/ This goes out to the underdog," she crooned during the hook.
"Underdog" was co-written by Ed Sheeran and serves as the newest single from her upcoming LP, ALICIA. While the set was recently pushed back to May 15, the singer is still marching forward with her new memoir, More Myself, which drops on Tuesday via Flatiron.
You can support two of many charitable organizations that are helping victims and first responders during this difficult time —Feeding America and First Responders Children's Foundation. Every dollar raised from the COVID-19 response fund for Feeding America will be used to get food and funds to local food banks across the US and FOX Entertainment is matching the first $100,000 donated from supporters. Money raised for First Responders Children's Foundation will help support those first responder families who are enduring financial hardship due to the coronavirus outbreak.
And if you missed any of the iHeartRadio Living Room Concert for America, watch the special on iHeartRadio's official YouTube channel until April 1.