5 Tips To Help Keep You Productive During Quarantine On 'Before Breakfast'
By Diana Brown
March 31, 2020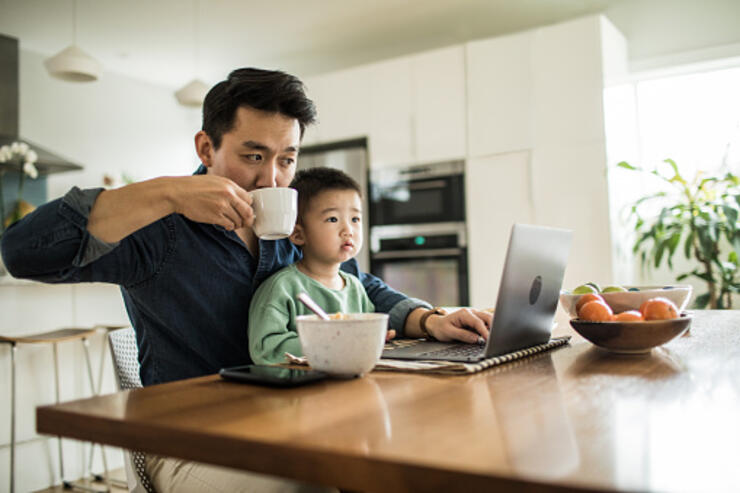 Before Breakfast, hosted by Laura Vanderkam, offers quick, five-minute episodes dedicated to time management techniques. Laura has worked from home since 2002, so she knows a thing or two about making each moment count. And since the coronavirus pandemic has swept the globe, forcing countless people to work from home who may not be accustomed to it, she's started focusing on different ways to make the most of your quarantine and still maintain a healthy work/life balance. These five episodes offer helpful tips and tricks for a productive pandemic, covering how to connect virtually, manage anxiety, navigate childcare, and how to look back on your day with satisfaction instead of stress.
Laura knows that the virus is at the top of everyone's mind, and it's tempting to keep checking your phone or turning on the news for updates. But she cautions against it. Information overload just leads to unnecessary anxiety, so check the news just once per day, and then turn your attention to something positive: her children laughing and her flowers blooming are what's doing it for her, she tells us. What's around you that could contribute to your contentment?
Working from home is always a challenge, but these days, it's even harder since schools and daycares are closed. Without regular childcare, getting in a full day's work can seem impossible. Laura shares some of her tried-and-true techniques, suggesting ways to work with your spouse or significant other to trade off childcare and work hours, how to strategically use screen time with the kids so it doesn't "lose its magic," and most of all, maintaining open communication: "we're all doing the best we can."
When Laura first started working from home, her days seemed "dizzyingly open" without the routine of an office. But she quickly learned to set herself a short list of tasks to be accomplished by the end of the day, leaving herself room to take on unexpected assignments as they come up. She ends up with a 40-hour workweek with her task-based method, and is able to look back on her days with satisfaction. For managers and workers, this is a winning combination.
Even if you're busy working and raising children, there are still a lot of hours to fill in a lockdown, and TV doesn't always do the trick. Laura suggests rediscovering some "old-fashioned forms of fun" that fill more hours, like cooking and baking, doing giant puzzles or playing long board games like Risk and Monopoly with your kids, taking up a craft like sewing, and more. "The good news," she points out, "is that on the other side of this...we'll have expanded our repertoire of fun."
Some people think that a virtual connection is no substitute for a face-to-face meeting, and in some ways, they're not wrong. But it is easier than ever to maintain relationships, sometimes extremely close ones, completely virtually. Tools like Zoom and Squadcast enable us to see each other as if we're in the same room, essentially tricking our brains, and Laura has lots of advice about how to strengthen these remote relationships every day so we can always be connected, even when we're far apart.
If you want to be sure you're listening to the podcasts everyone else is checking out, iHeartRadio has you covered. Every Monday, iHeartRadio releases a chart showing the most popular podcasts of the week. Stay up to date on what's trending by checking out the chart here. There's even a chart just for radio podcasts here, featuring all your favorite iHeartRadio personalities like Bobby Bones, Elvis Duran, Steve Harvey and dozens of others.
Photo: Getty Images