Luke Combs Debuts Emotional Quarantine-Inspired Song, 'Six Feet Apart'
By Blake Taylor
April 16, 2020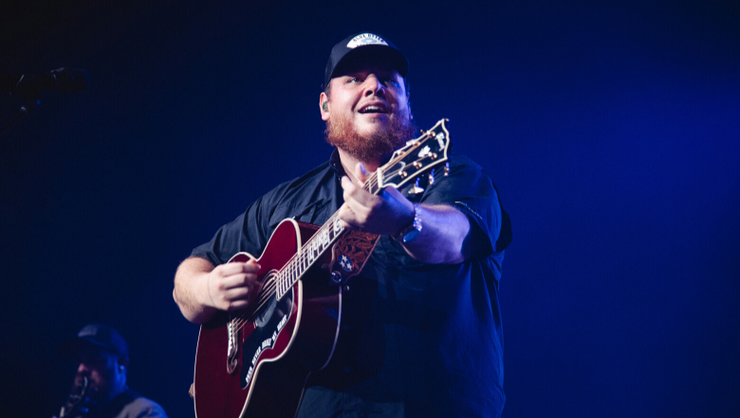 Luke Combs surprised fans with the debut of another unreleased song on Wednesday (April 15). The country star shared an acoustic performance of the emotional track, "Six Feet Apart" during a livestream concert on social media.
The song, written by Combs alongside Rob Snyder and Brent Cobb, was inspired by the current health crisis and state of the world as people continue to practice social distancing due to the coronavirus (COVID-19) pandemic. Other artists have also written about the shelter in place guidelines but with more of a humorous approach. "Six Feet Apart" has a more serious tone about the times we are all living through together.
"But the news has all been bad / and the world just seems so sad / I ain't had much else going on / so I sat down and wrote this song / I miss my mom, I miss my dad / I miss the road, I miss my band / And giving hugs and shaking hands," Combs sings in the chorus. "It's a mystery I supposed / just how long this thing goes / there'll be crowds and there'll be shows / and there will be light after dark someday when we aren't Six Feet Apart."
Last week, Combs shared another unreleased song called "Used To Wish I Was" during a livestream concert. The song finds Combs looking back at all the things he previously wished he'd be one day like a football star, race car driver, college graduate and more. Ultimately, he admits he's happy things didn't turn out the way he previously hoped they would.
"When I was sixteen, I had running back dream that never did run too far /Thought I was gonna be number three one day, 'til I wrecked my old man's car/ I almost finished college but I ain't cut from that cloth/ I used to wish I was, but I'm glad I'm not," Combs sings.
Take a listen to "Used To Wish I Was" here.
Photo: Getty Images