Marcus Mumford And Major Lazer Share 'Lay Your Head On Me' Acoustic Video
By Katrina Nattress
April 16, 2020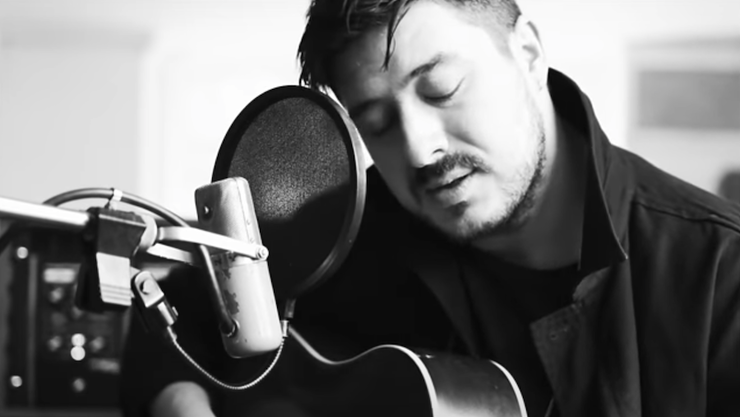 Last month Major Lazer dropped a new song with an unlikely collaborator: Marcus Mumford. Though the pairing is a bit of a head-scratcher on paper, the finished product — "Lay Your Head On Me" — is the perfect blend of Mumford & Sons sincerity and Diplo, Walshy Fire and Ape Drums' tropical beats.
This week, the group stripped down the track so all that remained was Mumford's vocals and guitar — and honestly, it sounds like a Mumford & Sons song. The accompanying black and white video shows the singer tracking vocals while strumming his acoustic guitar. Watch the "Lay Your Head On Me" acoustic video below.
Days before the Major Lazer collaboration dropped, Mumford & Sons shared a new song called "You'll Never Walk Alone," with proceeds benefiting COVID-19 relief.
"Here's a song for you, because it feels like the right time to get it out," Mumford wrote when the song's audio was released. "All record royalties and record company profits from this song will go to Grenfell Foundation and Warchild UK. These are uncertain times for so many people, and we get that. We're trying to pursue a 'both/and' approach - to find out how we can support our literal neighbours, whilst also thinking of those further away who need our help more than ever. I work with both organisations, I have been in contact with them throughout the COVID pandemic, they're doing amazing work supporting vulnerable people, but it's really hard right now. To find out more, or to make a donation of your own to their extraordinary work, please see these links: https://mumford.lnk.to/donateID"
"I recorded this song after a conversation with my dear friendJason Sudeikis, as I've been scoring his unreleased television show, Ted Lasso," he divulged. "It may still end up in the show, but we've had it up our sleeve for a couple of months. For lots of reasons we wanted it just to be out in the world sooner rather than later, so here it is, with love. My friendReuben Jamescame down and played piano on it and if you don't know his work go check it out because he's a genius."
Photo: YouTube
Chat About Marcus Mumford And Major Lazer Share 'Lay Your Head On Me' Acoustic Video