Watch Brad Paisley Color Kimberly Williams Paisley's Hair At Home
By Blake Taylor
April 17, 2020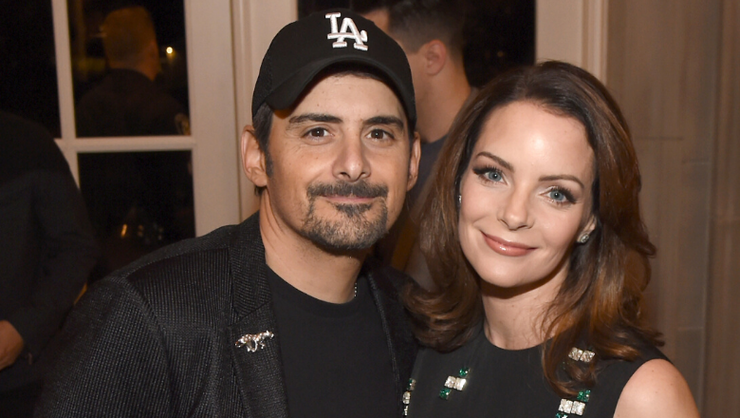 Brad Paisley and his wife, Kimberly Williams Paisley are the ultimate quarantine team.
This week while stuck at home due to the coronavirus health crisis, Brad assisted Kimberly with important haircare maintenance. In a hilarious video shared on her Instagram page on Thursday (April 16), Brad shows off his hairdresser skills as he helps his wife color her hair.
In the clip, Kimberly appears a bit nervous as Brad shake the bottle to mix the solution. "I had no idea you colored your hair," Paisley remarks, adding, "I see no grey. When did you get a tattoo on your scalp?"
He continues on to apply the color to Kimberly's roots and jokingly tells her, "This is going to ruin everything I've worked toward in my image."
As the clip concludes, Kimberly shows her fresh hair color, which actually looks great. Check it out below.
Aside from helping Kimberly with her hair, Brad also released a new song this week called "No I In Beer." The track, shared on Wednesday (April 15) finds Paisley looking to cold beer to bring people together during difficult times.
"Wherever you are tonight / Whatever you're going through / Grab a long neck bottle or a big 'ol pint / And let's all have a few, 'cause / We're all in this together / To me it's all so clear / Drinkin' oughta be a team effort / There is no "I" in beer," Paisley sings.
Although the lyrics seem to apply perfectly to the idea of being quarantined during the coronavirus (COVID-19) pandemic, it was actually written by Paisley and co-writer, Kelley Lovelace, in 2018.
"No I in Beer" is Paisley's first single since 2019's "My Miracle." The country singer has yet to announce any plans for a new album but in the meantime take a listen to his new single here.
Photo: Getty Images
Chat About Watch Brad Paisley Color Kimberly Williams Paisley's Hair At Home