Brad Paisley Says Crashing Fans' Zoom Parties Was 'Very Emotional' For Him
By Blake Taylor
April 21, 2020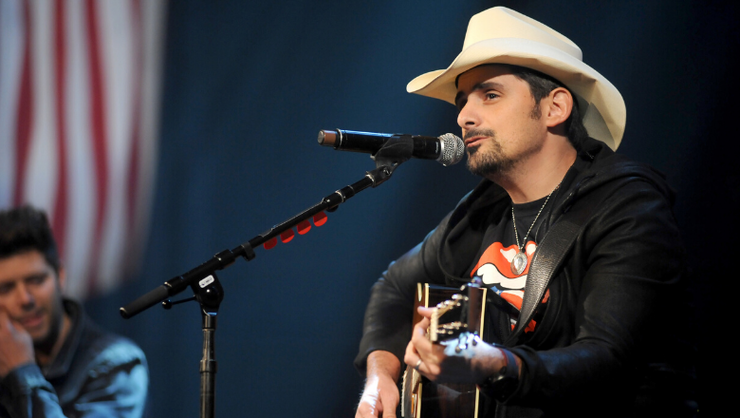 Brad Paisley spent his Saturday night crashing fans' Zoom hangouts from the comfort of his own home on what he calls "The Paisley Pubcrawl." The goal is to share a few drinks, laughs, positivity and inspiration with people on the other side of the screen.
"I got this idea because I started getting these invited from fans going, 'Hey, want to be in our happy hour?'" Paisley explained in an interview on the Today show. "And I said, 'Well tell you what, you hold a happy hour from this time on on Saturday night and I'll hit as many as I can.'"
Paisley continued on to share the surprising effect the event had on him. "It's strangely... first of all, it's fun, second of all, it's sort of strangely very emotional for me. I finished it and felt really sort of this deep connection and also inspired by how these people are adapting and staying connected with friends and they allowed me into their houses and it's really a strange time, but it's also a time of unity where you just see a lot of people doing the best they can to stay sane."
He added that the Zoom hangouts are what inspired him to release his new single, "No I In Beer." The track, shared on Wednesday (April 15) finds Paisley looking to cold beer to bring people together during difficult times.
"Wherever you are tonight / Whatever you're going through / Grab a long neck bottle or a big 'ol pint / And let's all have a few, 'cause / We're all in this together / To me it's all so clear / Drinkin' oughta be a team effort / There is no "I" in beer," Paisley sings.
Although the lyrics seem to apply perfectly to the idea of being quarantined during the coronavirus (COVID-19) pandemic, it was actually written by Paisley and co-writer, Kelley Lovelace, in 2018.
"No I in Beer" is Paisley's first single since 2019's "My Miracle." The country singer has yet to announce any plans for a new album but in the meantime take a listen to his new single here.
Chat About Brad Paisley Says Crashing Fans' Zoom Parties Was 'Very Emotional' For Him