Post Malone Raises Over $4 Million For COVID-19 Relief
By Peyton Blakemore
April 27, 2020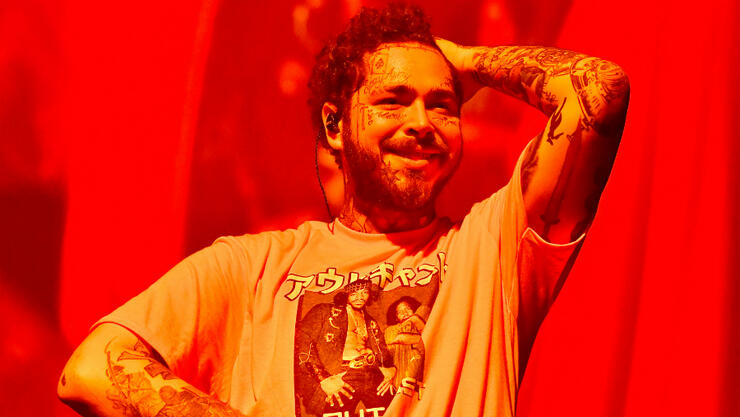 Post Malone's Nirvana tribute concert raised a serious amount of cash for coronavirus relief.
According to TMZ, the "Writing On The Wall" artist's recent livestream has raised over $4.3 million for the United Nations Foundation's Covid-19 Solidarity Response Fund for The World Health Organization.
As fans know, Posty performed a 15-song, 80-minute set that included Nirvana classics "Come As You Are," "Heart-Shaped Box," "About a Girl," and "Stay Away" on Friday (April 24). For the nostalgia-inducing show, which was streamed on Youtube, Post was joined by three socially-distanced musicians — blink-182 drummer Travis Barker, bassist Brian Lee and guitarist Nick Mack — who were in other rooms of his Salt Lake City home.
The virtual concert was such a hit, in the first hour alone, the group raised $1 million.
Post's Nirvana tribute concert also got the stamp of approval from both Courtney Love, widow of Nirvana frontman Kurt Cobain, and Nirvana bassist Krist Novoselic. Krist live-tweeted during the stream, writing, "So proud of @PostMalone and crew." He later added, "I don't think these fellows can play any better. They are on fire!!!!"
Meanwhile, Courtney shared her approval on Instagram, writing, "GOOSEBUMPS! F**K YES. Go have a margarita @postmalone. nothing but love from here."
Fans can still donate on the YouTube page of the performance.
Google has also pledged to match all donations at a 2:1 rate for up to $5 million of donations.
Photo: Getty Images
Chat About Post Malone Raises Over $4 Million For COVID-19 Relief