Metallica Streams Early Concert From The Historic Black Album Tour
By Andrew Magnotta @AndrewMagnotta
April 28, 2020
For the first time in the band's #MetallicaMonday concert series, the band has shared a concert film from before the turn of the century.
Whereas Metallica seemed determined to stick to concerts filmed in HD from the past decade by its in-house video crew, this week, the band shared a truly historic performance from November 1, 1991, in Muskegon, Michigan.
The Muskegon show was just the third concert of Metallica's 'Wherever We May Roam' tour in support of the self-titled Black Album, which had debuted at No. 1 on the Billboard album charts about four months earlier.
Drummer Lars Ulrich introduced the concert, explaining that it was going to be one of the more raw shows presented during the #MetallicaMonday series, having been recorded to VHS tape from house cameras with audio taken straight from the front-of-house mixing board.
"Lot of crazy days, a lot of long rocker hair at the time and I think I may have played without a shirt on for pretty much that entire tour," Ulrich recalls.
The concert itself is a refresher of Metallica's particular brand of live mayhem as the band was just coming into its own as the world's biggest heavy rock act.
The setlist is something to behold, drawing solely from the band's first five albums. The show begins with "Enter Sandman," the proceeds through a battery of '80s classics, "Creeping Death," Harvester of Sorrow," "Welcome Home (Sanitarium)," before returning to one of the Black Album's strongest tracks, "Sad But True."
Longtime Metallica fans will appreciate seeing bassist Jason Newsted rocking with the band in his prime. Newsted's energy onstage always rivaled that of the fans in the mosh pit, and watching him, it's no wonder he was eventually diagnosed chronic whiplash.
Check out the full concert in the video player above.!
Each #MetallicaMonday concert is an opportunity for fans to donate to the band's All Within My Hands foundation, which supports food banks across the world.
Photo: Getty Images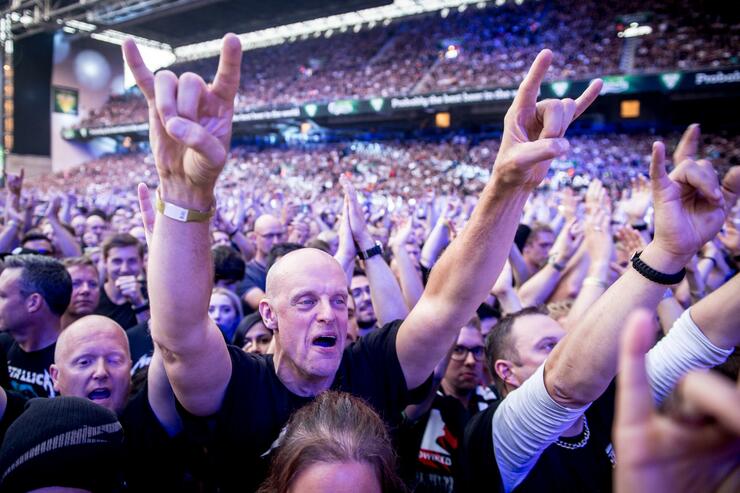 Chat About Metallica Streams Early Concert From The Historic Black Album Tour