Gigi Hadid & Zayn Malik Debut Matching Jewelry With Powerful Message
By Paris Close
May 5, 2020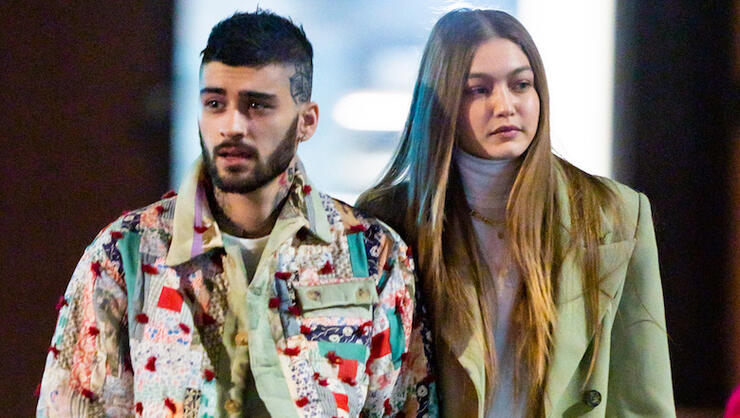 Gigi Hadid and Zayn Malik's new matching jewelry is all about keeping good vibes.
Over the weekend, the couple, who is expecting their first child together this fall, walked away with identical diamond-studded "evil eye" bracelets as a token of their love. The 14k bracelets, valued at $234 each, were actually gifted by jewelry designer George Khalife, who posted a picture of Hadid and Malik wearing the charms on Instagram.
"Good vibes only for this beautiful couple!!" Khalife captioned the snapshot of the couple flaunting the fancy gems as they clasp each other's hands — with Zayn's sporting a flower ring for mentionable cuteness.
Speaking to Page Six, Khalife shared the cultural and spiritual meaning behind the design.
"I don't know how exactly the evil eye came up, but I think I maybe mentioned it and she was like, 'That's so funny, we were just talking about pulling out some evil eyes,'" he told the outlet. "We're all Middle Eastern, so in our culture we believe they ward away jealousy and keep haters away. And you know everybody's going to be talking about them— all eyes on them. So I was like, 'Don't worry, I got you.'"
He added: "I feel like times like this are just very emotional — there's so much going on. I think they need to look at those bracelets as a reminder to not let the negative energy affect them."
As fans know, the runway star is pregnant with the "Pillowtalk" singer's baby and she's reportedly due to give birth this September. Despite the news being leaked to the press, Hadid confirmed her pregnancy with a special announcement on The Tonight Show last week.
Watch Gigi Hadid's pregnancy announcement again below.
Chat About Gigi Hadid & Zayn Malik Debut Matching Jewelry With Powerful Message