Trump's Team Blasts GNR's 'Live and Let Die' During Mask Facility Tour
By Andrew Magnotta @AndrewMagnotta
May 6, 2020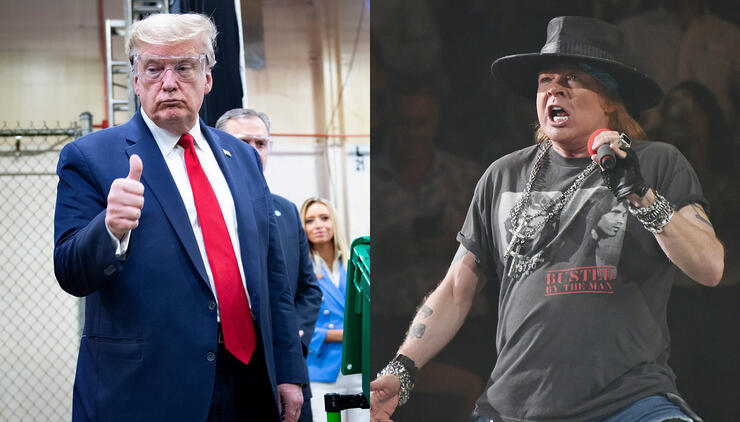 President Donald Trump drew criticism Tuesday after he toured an emergency face-mask factory in Arizona without wearing a mask himself or requiring members of his team to do so.
Several news outlets reported that signs were displayed in the facility, warning that masks were mandatory.
Perhaps more puzzling was that the President's team played Guns N' Roses' version of "Live and Let Die" at a high volume through the facility's PA system during Trump's tour.
Washington Post reporter Zach Purser Brown called attention to the "astonishing" choice, noting that he'd never heard the song at a Trump event in the past so it must have been a recent addition to the playlist.
Trump was visiting a Honeywell facility in Arizona, which was recently converted to manufacture N95 masks for the federal government to help workers battling the novel coronavirus pandemic.
Many artists, including Guns N' Roses, have publicly and litigiously objected to Trump's appropriation of their music at his events over the past several years. The inclusion of GNR's Paul McCartney & Wings cover was notable because of the song's lyrics and also because of GNR frontman Axl Rose's well-documented vitriol towards the President.
Music picked by Trump's team was played over the facility's PA throughout the tour, so there's little doubt that the song was included on the POTUS playlist by a trusted member of his team.
Purser Brown said the mask factory playlist also included "Gloria," House of the Rising Sun," "Tiny Dancer," "Eye of the Tiger" and "God Bless the USA."
Photo: Getty Images
Chat About Trump's Team Blasts GNR's 'Live and Let Die' During Mask Facility Tour