Axl Rose Calls Trump Campaign "S--tbags" for Using Music Without Consent
By Andrew Magnotta
November 5, 2018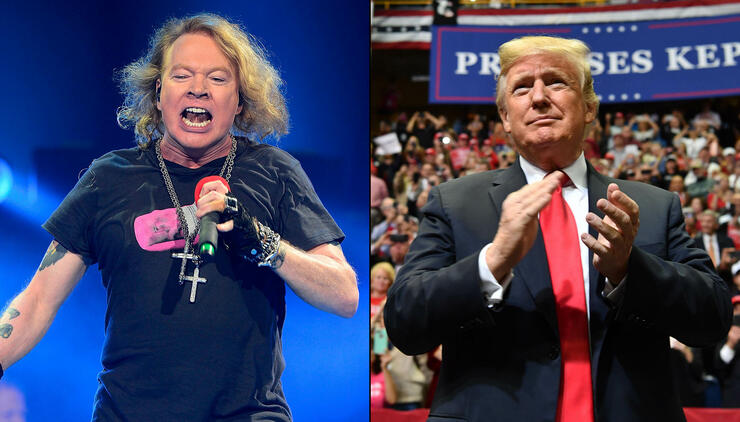 No one would expect Guns N' Roses front man Axl Rose to keep his cool knowing that President Trump's campaign is using GNR music at its rallies.
Rose has been an outspoken critic of Trump's for years, and like many other artists Rose is upset that the President is using his music to entertain crowds at his rallies.
In several Tweets sent out Saturday night/Sunday morning, Rose explained why, despite so many objections, the Trump campaign is able to continue using music by artists without their permission.
"Unfortunately the Trump campaign is using loopholes in the various venues' blanket performance licenses which were not intended for such craven political purposes, without the songwriters' consent," Rose explained. "Can [you] say "s---bags!?"
The front man clarified that his band formally asked the Trump campaign to stop using its music at rallies long ago.
At a rally in Chattanooga, TN, Trump's DJ played "Sweet Child o' Mine" over the PA. Pop star Rihanna also vowed to fight Trump's use of her song "Don't Stop the Music" at the same event.
Rose said he decided to address the issue via Twitter as he faced a flood of text messages from friends who heard the song during coverage of the Trump rally on television. Rose added that he's not losing sleep over it.
"Personally I kinda like the irony of Trump supporters listening to a bunch of anti-Trump music at his rallies, but I don't imagine a lot of 'em really get that or care," he said.
Rose is about to head east for the final Pacific leg of Guns N' Roses' Not in This Lifetime tour, which kicks off on Thursday in Indonesia.
Get the rest of GNR's tour dates here.
Photo: Getty Images
Chat About Axl Rose Calls Trump Campaign "S--tbags" for Using Music Without Consent