Brandon Flowers Recalls Meeting Danny Elfman While Working At Spago
By Katrina Nattress
May 13, 2020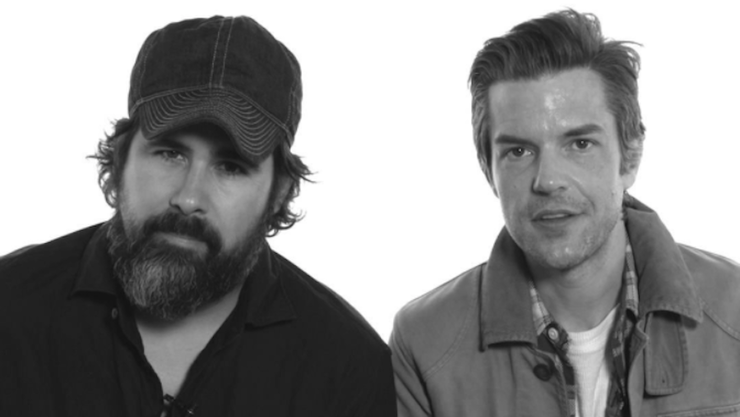 The Killers' Brandon Flowers and Ronnie Vannucci recently sat down with Rolling Stone for an episode of "The First Time," and after recounting a handful of firsts, including concert, performing, and hearing their song on the radio, Flowers told a story about meeting Danny Elfman when he was working as a busser at Spago in Caesars Palace at age 18.
"All kinds of people would come through there, but not usually a lot of punk or alternative icons would come through," Flowers explained. He usually worked in them morning but had a dinner shift when Elfman and his family came in for his birthday. Flowers is a huge Oingo Boingo fan, but they had a rule where you couldn't talk to celebrities. His general manager was working, who was also a huge Oingo Boingo fan and met his wife at one of their concerts, so Flowers thought he'd make an exception.
"He came and told me no, don't," he said. "I couldn't help it, and I went to the table — it wasn't even in my section. It was just a blanket, I love you; I'm a fan. He saw me getting in trouble later from the general manager."
Flowers worked the morning shift the next day and saw Elfman walking by. "He comes back into the restaurant and gives the hostess a piece of paper, and he leaves, so I run over to the hostess. It's a note to me," he recalled. "I just think now, how many people would do that? Danny Elfman's a good dude."
Watch the full episode below.
Flowers and Vannucci have also been dissecting old music videos for Vevo's "Watch This" series and recently reminisced about their first video ever, "Mr Brightside," and the gruesome alternate ending for "When You Were Young" that was so dark MTV wouldn't air it.
Although they've been reminiscing about the past lately, The Killers are gearing up to release their sixth studio album Imploding The Mirage, which should be coming out sometime this year.
Photo: Instagram @rollingstone