Katy Perry 'Always Open' To Collaborating With Taylor Swift On New Album
By Paris Close
May 16, 2020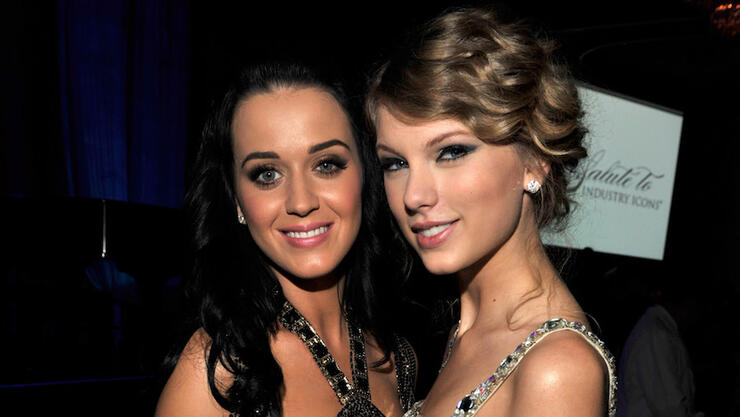 Katy Perry is setting the record straight on whether Taylor Swift appears on her new album.
Perry, who is priming fans for the release of her upcoming sixth studio LP this summer, had to break the bittersweet news to Swifties and Katy Kats alike about fan theories speculating that Swift appears on her new song, "Daisies." On the record, which dropped this Friday (May 15), fans swore they could hear the "Lover" songbird's vocals in the background — unfortunately, this is untrue.
Speaking to the theory on a radio show hours after releasing the lead single from KP5 (out August 14), Perry said, "No, it's not correct. But the fans are definitely excited for something like that to happen in the future, and I'm always open."
Perry had somewhat of a hopeful response when asked whether her 30-year-old frenemy-no-more could appear on her new record. "No! Not as yet," the 35-year-old mommy-to-be responded.
"I mean, the fans are so fun, they do search far and wide for Easter eggs. And we do put them in our visuals and in lyric videos and music videos and content that we created," she said, before adding with a laugh, "Not everything is an Easter egg. Some things are just flowers."
The speculation isn't without credence, though. Last year, the stars made history with their on-screen reconciliation after years of feuding when Perry and Swift came together for the closing scene of the latter's "You Need to Calm Down" music video.
Perry's latest comments, albeit unpromising, come just days after the "Dark Horse" songstress appeared to hint at giving more answers about the collab rumors during this weekend's season finale of American Idol.
When Extra asked if she and her former frenemy will join forces on a song, Perry replied coyly, "Well, you're just gonna have to tune in to 'Idol' next week if all rumors are true or false."
In other words, keep your fingers crossed, you guys!
Photo: Getty Images