6ix9ine Accuses Snoop Dogg Of Cheating On His Wife, Shares Alleged Proof
By Peyton Blakemore
May 18, 2020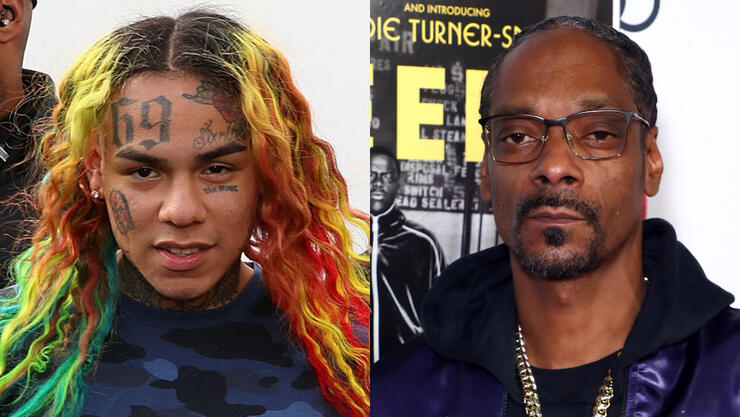 Tekashi 6ix9ine's beef with Snoop Dogg took a personal turn on Sunday (May 17) when the "GOOBA" rapper decided to post a video of Snoop allegedly cheating on his wife, Shante Broadus.
"For 2 years while I was in jail people started with me trying to end my career and it didn't work," Tekashi captioned the since-deleted Instagram video, which showed a man that appeared to be Snoop looking into a bag while talking to a woman. The video then transitioned to a woman FaceTiming Snoop about meeting up.
"Now they say leave me alone. This the world we live in. Go apologize to your wife," 6ix9ine added in the caption before tagging Snoop's wife in the post.
As fans know, 6ix9ine, who was granted a compassionate release from prison last month after becoming a federal informant, and Snoop began trading shots on Instagram over the weekend after 6ix9ine accused Snoop of being a snitch.
"@snoopdogg hey sir let's chat," the 24-year-old rapper wrote on his Instagram Story after claiming he wasn't the only "rat" in the music industry. "If your in denial the paper work is online and suge knight speaks on it from prison but we choose to ignore who we want to call rats."
Shortly after 6ix9ine's comments, Snoop posted a video addressing the rapper's claims, saying, "Last time you said something, I ain't have time. But today, I got time. You better get the f**k off my line ni**a. Rat boy. You really better leave me alone. I ain't the one. No way. No way. Go on and do your sh*t and get out my way, b*tch. ... You f**k with the Dogg, nothing nice."
Despite Snoop's warning, 6ix9ine continued to poke at Snoop, writing on Instagram, "They pick and choose who they want to call rats THERES PAPER WORK and SUGE KNIGHTS prison interview BUT the industry acts blind mute and death I'm not letting up either."
Photo: Getty Images
Chat About 6ix9ine Accuses Snoop Dogg Of Cheating On His Wife, Shares Alleged Proof