Katy Perry Says Neighbor Adele Made A Spontaneous Visit To Her Pre-Lockdown
By Hayden Brooks
May 18, 2020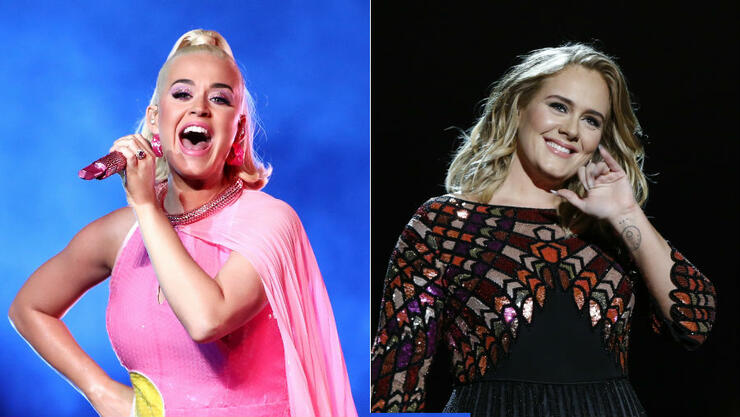 Katy Perry is on a full-blown publicity campaign to promote her new single, "Daisies," and one of her recent interviews caught the pop star spilling a major reveal about her newly-transformed neighbor Adele.
Speaking with UK's Hits Radio Breakfast, Perry discussed her life in COVID-19 quarantine and revealed that she lives next to the pop diva. "She's my next door neighbor, so she's, like, not only is she on the scene, but she's, she's, like, around the corner," the pregnant star told the hosts. "We live very close to each other, so close that, and we're friendly and we've known each other for a long time, so close, I haven't seen her in-person since she's been, like, you know, transforming herself because pre-quarantine I was busy, she was busy."
Perry went on to recall a previous interaction the two stars had some time last year, where Adele randomly knocked on the star's door. "I remember sometime last year, she just knocks on my door and comes in. I'm in my robe, I mean, that's how, like, it's fun. She's great," she continued. "She's very real. Yeah. Yeah. My, the funny thing is, is, I've known her for a while, right, and I think a girl that was working for me at the time answered the door and she's like, 'Adele is here.' I was still, like, sleeping. It was, like, 11 o'clock or something like that and I was like, 'Okay, I'll just get in my robe' and she just, we just had a chat and a, a cuppa."
In addition to waiting for Adele's new record, Perry is eagerly waiting on new tunes from Rihanna, as well as the arrival of her first baby with fiancé Orlando Bloom. The two previously announced that they're expected a baby daughter.
Chat About Katy Perry Says Neighbor Adele Made A Spontaneous Visit To Her Pre-Lockdown