Eminem To Celebrate 'Marshall Mathers LP' With Virtual Listening Party
By Paris Close
May 25, 2020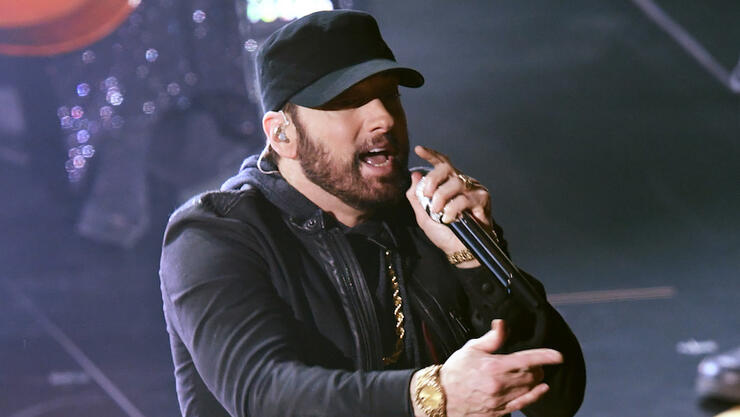 Eminem is celebrating 20 years of The Marshall Mathers LP.
The Detroit-bred rapper is doing something special to mark the 20-year anniversary of his formative third studio album. Taking to Instagram over Memorial Day weekend to break the news, the "Rap God" emcee announced a listening party scheduled to go down this Wednesday (May 27). "I used to give a f—k / now I could give a f—k less," the 47-year-old captioned the post, citing lyrics from his 2000 song "I'm Back."
"Stan drop, Listening Party and I got a new number ☎️ - hit the site for more info on the 20th Anniversary," he added, directing followers to sign up for the listening party and join a live chat, via his website, during which Em will answer fan questions.
As yet, Shady has not shared an official time for the event.
The Marshall Mathers LP, produced primarily by Em and longtime collaborator Dr. Dre, features several tracks that have become mainstay to Shady's indelible catalogue, including "The Real Slim Shady," "The Way I Am," "Stan," and "B—ch Please II." The record is also considered one of the best-selling records of all time, having sold 25 million copies worldwide. The effort also won the lyricist the Best Rap Album award as well as an Album of the Year nod at the 2001 Grammys.
This year has proven to be quite reflective for the lyricist. Last month, he celebrated 12 years of sobriety and honored the occasion by sharing the milestone with fans in an inspiring social media post.
Shady also delivered a surprise performance of "Lose Yourself" with "Uncle" Elton John at this year's Grammy Awards. The 2002 Grammy-winning record made the star the first hip-hop act to collect Best Original Song at the 2003 ceremony, where he was anticipated to perform but admittedly skipped out.
Photo: Getty Images
Chat About Eminem To Celebrate 'Marshall Mathers LP' With Virtual Listening Party