'Riverdale' Stars Lili Reinhart & Cole Sprouse Break Up: Report
By Paris Close
May 26, 2020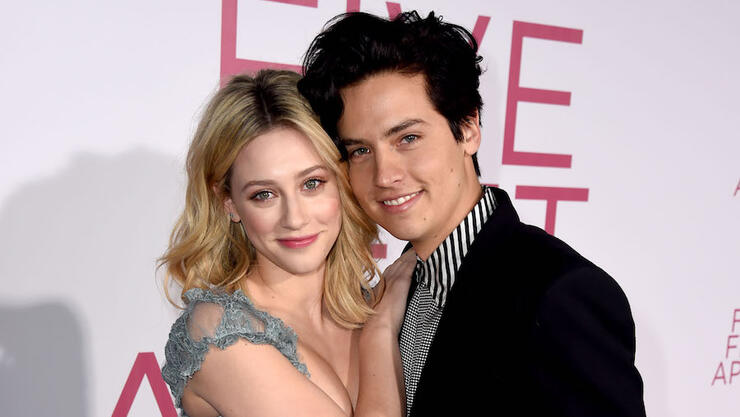 Cole Sprouse and Lili Reinhart are donzo.
After three years of dating, the Riverdale lovebirds reportedly called it quits, Page Six has learned. Evidently, the duo pulled the plug on there romance before the coronavirus pandemic and have been quarantining separately ever since. "Cole and Lili split before the pandemic hit, and have been quarantining separately," the insider told the outlet. "They remain good friends."
As the site indicates, Riverdale costar Skeet Ulrich (Jughead's father on the series) seemingly hinted that the young couple had broken up as well. He let as much slip during an Instagram Live chat a few weeks ago when a fan asked "Do you think that Cole Sprouse and Lili Reinhart are a cute couple?" to which the 50-year-old actor replied, "I think they were a very cute couple," making sure to emphasize the word "were."
As fans know, Sprouse and Reinhart — who play each other's on-screen love interests as Jughead and Betty on the hit CW show — started dating back when the show premiered in 2017. Although the breakup report has not been confirmed yet, this wouldn't be the first time Sprouse and Reinhart have been met with such gossip.
In July 2019, the 23-year-old actress had to speak out regarding the myriad of reports insisting she and the 27-year-old had gone their separate ways. "Don't believe everything you read on the internet, kids," she tweeted at the time. "And news sources should try a little harder to be less vile. 'Reliable sources' can kiss my a—."
In April, Sprouse also had to defend his relationship with Reinhart by reacting to claims that he'd cheated on her with model Kaia Gerber. "When I first stepped into a public relationship this was one of the foreseeable consequences," he said. "And while I truly never intended to indulge any part of my private life to the ravenous horde, it's clear my restraint in updating them has allowed them to push their own agenda onto my habits and lifestyle."
Photo: Getty Images
Chat About 'Riverdale' Stars Lili Reinhart & Cole Sprouse Break Up: Report