Grimes Is Literally Selling A Piece Of Her Soul In An Online Art Exhibition
By Katrina Nattress
May 28, 2020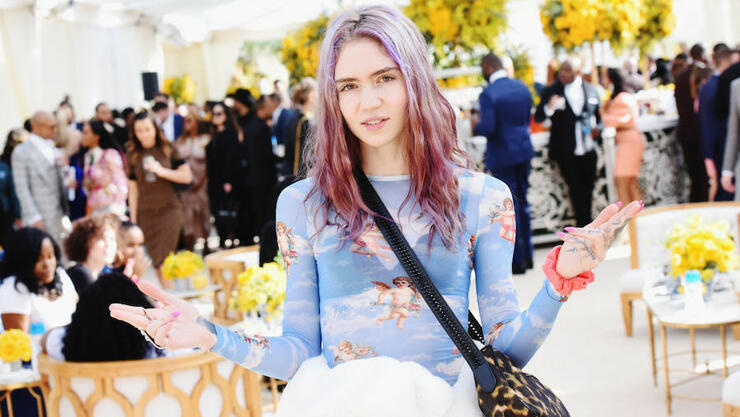 Grimes has a lot on her plate right now — she and her billionaire boyfriend Elon Musk recently welcomed their uniquely named son into the world — but that's not stopping her from putting together an online art show. The exhibit, titled Selling Out, features drawings, prints, photographs, and conceptual pieces the alt-pop star created over the past decade. While any of Grimes' creative output is undoubtedly interesting, the most eye-catching piece in the collection is a literal part of her soul.
"I didn't want anyone to buy it, so I said we should just make it $10 million and then it probably won't sell," she admitted to Bloomberg of the piece, also titled Selling Out. However, after recruiting her lawyer to help draft a contract of sale, "the deeper we got with it, the more philosophically interesting it became," she explained. "Also, I really wanted to collaborate with my lawyer on art. The idea of fantastical art in the form of legal documents just seems very intriguing to me."
After the world fell into recession caused by the COVID-19 pandemic, Grimes couldn't bring herself to actually hang a $10 million price tag on the art, so it's now going for "best offer."
Though known for her music, the 32-year-old has been making art "10,12 years before I ever touched a keyboard."
"I see myself as a visual artist first and foremost, and I've always felt strange that people know me for music," she divulged.
Each print comes in an edition of 30 and costs $500. Grimes' ink-on-paper drawings range from $2,000 to $3,000, and archival prints of her avatar WarNymph, which was scanned from the artist's body, are going for $5,000 to $15,000, depending on size. 
Selling Out will take place virtually at two different galleries: Gallery Platform Los Angeles (May 28-June 6) and Maccarone Los Angeles (May 28-August 31).
Chat About Grimes Is Literally Selling A Piece Of Her Soul In An Online Art Exhibition