Tim McGraw Reveals His Quarantine Habit That Annoys Wife Faith Hill
By Blake Taylor
June 15, 2020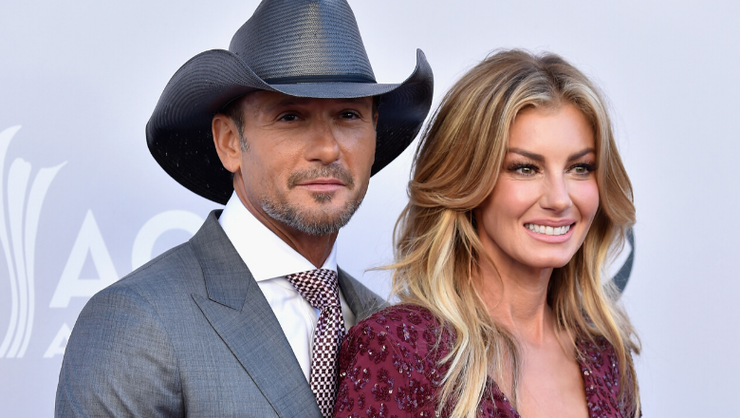 Tim McGraw and Faith Hill's lifestyle hasn't changed too much since they started quarantining due to the ongoing coronavirus (COVID-19) pandemic. In a recent interview with Entertainment Tonight, the "I Called Mama" singer revealed that he and his wife are "sort of homebodies" who spend most of their time together.
"Faith and I spend 90 percent of our time together. We're sort of homebodies," McGraw says. "We don't get out much and we always cook at home. We don't eat out much. We're always around the house, so we spend a lot of time together anyway."
Even though the couple already enjoyed being at home before the pandemic, they still appreciate the extra time that quarantine has given them.
"This has been really good. We enjoy just cuddling up, and watching movies, and TV series," McGraw shared. "I call my mama to get recipes now, stuff that I remember as a kid. I think there's been a lot of nostalgia during this, and that's the same thing with food. We wanted to cook stuff that we grew up with, stuff that we remember from our childhood."
With all the time they've spent together, they are bound to get on each other's nerves from time to time. McGraw revealed there's one thing he does that's gotten under his wife's skin more recently. "I spent 30 years in hotel rooms going in and out, so I've never even thought about cleaning up, but she's a neat freak, so she likes everything pretty clean," the singer revealed. "So I always get on her nerves about that."
When he's not spending time with his family, McGraw is hard at work on new music. He recently released his new single, "I Called Mama." The emotional song, written by Marv Green, Jimmy Yeary and Lance Miller, serves as a reminder that simply the sound of a loved one's voice can be comforting during hard times.
The "I Called Mama" video, which reflects the heartfelt lyrics of the song, can be seen below.
Chat About Tim McGraw Reveals His Quarantine Habit That Annoys Wife Faith Hill