Aerosmith Drum Tech Had Only 6 Hours Notice Before Performing With The Band
By Andrew Magnotta @AndrewMagnotta
June 16, 2020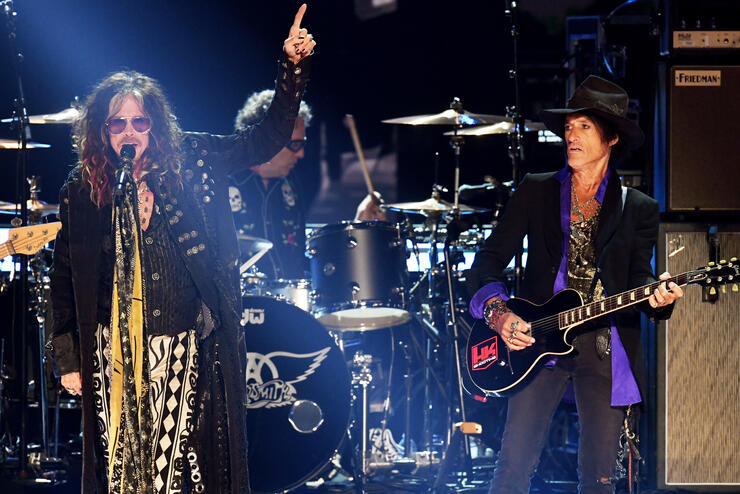 Aerosmith drum tech John Douglas says he had only about six hours to iron out parts in well over a dozen songs before taking the stage with the iconic band in Las Vegas last spring.
Aerosmith co-founder Joey Kramer was sidelined with an injury in the spring of 2019 during the band's 50th anniversary 'Deuces Are Wild' Vegas residency and Douglas was the next man up.
But the opportunity of a lifetime could easily be the stuff of nightmares for someone in Douglas's position. He tells the Houston Chronicle that the short notice he was given was probably to his benefit.
"Time can sometimes be your enemy," he said. "Having a lot of time can make you obsess about something like this. So having little time is an upside."
Drama around Kramer's return became national news this past winter. After several months off, Kramer wanted to get back in the band in time for its MusiCares Person of the Year and Grammy Award honors. The band didn't think Kramer was ready and Douglas performed both gigs in his stead.
"So that's me," Douglas said. "This drum tech guy from Montgomery, Texas, who played the Grammys with Aerosmith. Obviously I didn't grow up wanting to be a drum tech. I wanted to be a drummer. So I was honored to fill some famous shoes in an iconic band."
In prior interviews, Douglas said he wasn't asked so much as "told" that he was playing with the band the night of the first gig without Kramer. Knowing the set as a drum tech is one thing, but knowing the songs well-enough to play them as a drummer for thousands of people is another.
Douglas' is opening his 'High Performance' art show in Houston this Friday.
Photo: Getty Images
Chat About Aerosmith Drum Tech Had Only 6 Hours Notice Before Performing With The Band