Katy Perry Teases New Song Lyrics With Beautiful Baby Bump Photo
By Paris Close
June 17, 2020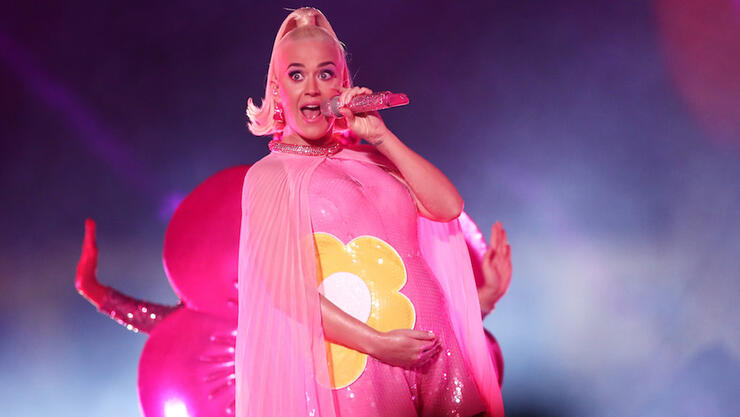 Looks like Katy Perry is getting ready to drop a new song!
On Tuesday (June 16), the singer-songwriter released a pair of atmospheric images on Instagram showing herself striking carefree posing in the desert with her baby bump on full display. And that's not all she's showing, as Perry appears to have teased the lyrics to what could be her next single.
In the pictures, the 35-year-old wears a colorful, tie-dye dress while stretching her arms out to catch the warm desert breeze. "I've got to shed all this skin/ if I want the distance/ let the sun in/ pull out the weeds/ and focus my vision," the "Dark Horse" superstar captioned the image, which has already amassed over 1.8 million likes.
As fans know, Perry is expecting her first child, a baby girl, with her fiance, Orlando Bloom. She announced her pregnancy news back in March in the music video for her song "Never Worn White," in which Perry debuted her blooming belly for the first time. Weeks after making her announcement, the lovebirds confirmed the gender of their baby with an adorable, frosting-filled gender reveal celebration. Albeit unconfirmed, previous reports alleged Perry and Bloom are expected to welcome their daughter this summer.
Perry's latest post comes a month after she unveiled "Daises," the lead single off her long-awaited, yet-untitled forthcoming album, due out on August 14. Although she's yet to officially announce the follow-up to "Daises" — which also received a picturesque visual — the snapshots could just as well be an indicator that more new music (and likely a new music video) is on the way.
See the snaps below.
Chat About Katy Perry Teases New Song Lyrics With Beautiful Baby Bump Photo