Post Malone Fans Upset Over His Drastic Haircut & Face Tattoo
By Paris Close
June 22, 2020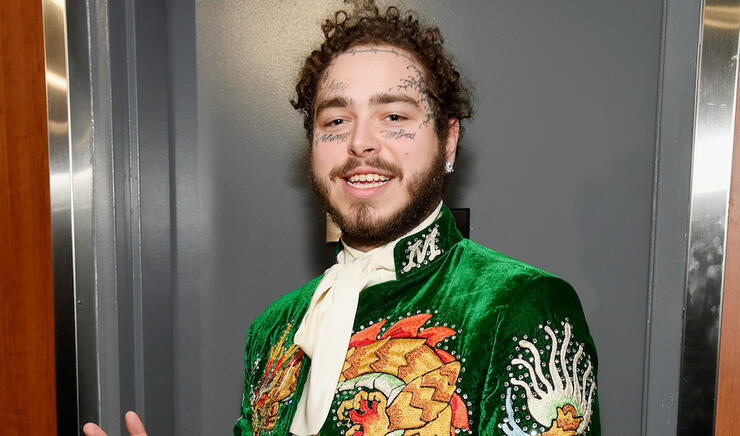 Post Malone fans are divided on his new look.
The "Congratulations" rapper debuted a new haircut and a huge tattoo on his head this weekend. On Sunday (June 21), Posty shared a picture of his newly-shaven head, which appears to be completely bald and with a large skull illustration in place of his signature curls.
"I have cut my hair even shorter, also skeletons are cool," the rocker announced with the surprising photo. "Spread your heart as much as you can. A little love goes farther than you think. Stay strong, and keep kicking a—. Love, Austin."
Even though he was pleased with his decisions, the 24-year-old's dramatic look received mixed responses from fans.
Some users loved Posty's transformation.
"It looks so good! we love you no mater what hair style you do, it'll grow back anyways ❤️💕" one commenter wrote.
Another supporter chimed in, "Your one of my favorites bc of your talent not your hair! Keep kicking as and you're still sexy without the curls🔥"
Others, on the other hand, didn't approve of the "Sunflower" star's bald head. "I love you but let your hair grow please🙃" one commenter implored, as another grieved, "But I loved your curls!"
Haircut aside, many fans were not as thrilled about Posty's latest ink work.
"WTH?? Boy if you don't stop writing in your d—n face! Where's your mom? Get a coloring book! Stop it! @postmalone" one fan wrote.
Another quipped, "Bro stop treating your head like a school table."
Despite the shocking transformation, Posty is no stranger to getting tattoos above his neck. Earlier this year, he showed off an insane medieval face tattoo after New Year's and another bloody ink design in February.
Photo: Getty Images