Halsey Announces First Poetry Book: 'I Would Leave Me If I Could'
By Lindsey Smith
June 26, 2020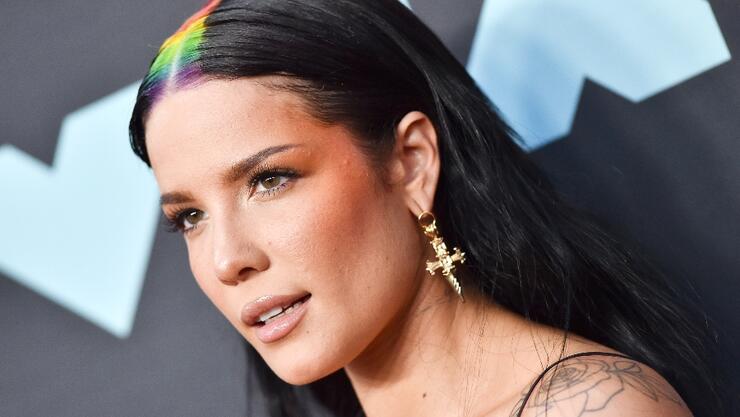 Halsey is finally giving the people what they've been wanting for years: a poetry book. Yep, the "You should be sad" singer is kicking it back to her Tumblr days and releasing a book filled with poetry. 
Titled "I Would Leave Me If I Could," Halsey's book of poetry was announced on Thursday (June 25) and the singer also revealed the incredible cover art.
"I wrote a few thousand sentences but am somehow struggling to string together a single one to summarize how excited I am about this. "I Would Leave Me If I Could.", my first collection of poetry, is available for pre-order now," she wrote on social media.
Featuring facial features like lips, and eyes, Halsey's painting is set up to look like a continent surrounded by water — something fans caught on to very quickly. 
"This painting I titled 'American Woman' it's absolutely a continent and an ocean," she wrote on Twitter when a fan noticed the similarities. 
Also replying to fans, the singer revealed the poems inside are "a good few years worth of work."
"I Would Leave Me If I Could" will be available November 10 and fans can preorder it from retailers like Target, Barnes & Noble, Amazon, and Indiebound for around $24.
While her song lyrics are poetry in and of themselves, there's no doubt that Halsey will be getting even more personal in her poems like the songs we've all come to love and memorize. 
The official summary of the book reads:
In this debut collection, Halsey bares her soul. Bringing the same artistry found in her lyrics, Halsey's poems delve into the highs and lows of doomed relationships, family ties, sexuality, and mental illness. More hand grenades than confessions, these autobiographical poems explore and dismantle conventional notions of what it means to be a feminist in search of power.
Masterful as it is raw, passionate, and profound, I Would Leave Me If I Could signals the arrival of an essential voice.
Photo: Getty Images
Chat About Halsey Announces First Poetry Book: 'I Would Leave Me If I Could'