Sam Hunt Strips Down 'Hard To Forget' In New Acoustic Rendition
By Blake Taylor
June 26, 2020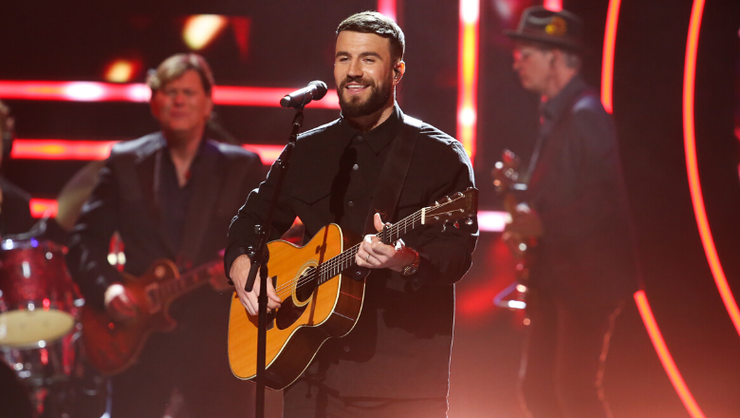 Sam Hunt's latest single, "Hard To Forget" became a quick fan favorite from his latest album Southside. As it continues to climb to the top of the country radio charts, Hunt decided to share a new acoustic version of the track with fans on Friday (June 26).
The new acoustic rendition, released on Friday (June 26) puts the country star's vocals front and center as he sings about how he's constantly reminded of an ex.
"You've got a cold heart and the cold-hard truth / I got a bottle of whiskey, but I've got no proof / That you showed up tonight in that dress just to mess with my head," Hunt sings in the chorus. "So much for so long, outta sight, outta mind / Girl, you're lookin' so good, it's drivin' me outta mine / Aw, you're breaking my heart / Baby, you're playing hard to forget."
"Hard To Forget" was co-written by Hunt alongside Luke Laird, Shane McAnally, Josh Osborne and Ashely Gorley, Audrey Grisham, Russ Hull and Mary Jean Shurtz. The song follows Hunt's latest chart topper, "Kinfolks." Both tracks are featured on his Southside album which dropped on March 3.
Take a listen to Hunt's new acoustic "Hard To Forget" rendition below.
This isn't the first time Hunt has put an acoustic spin on his music. In 2015, he released a 15-track acoustic mixtape called Between The Pines.
The project featured stripped down versions of songs like "Leave The Night On," "Raise On It," "Ex To See," "House Party" and more. It also included acoustic versions of songs Hunt co-wrote including "Cop Car," "We Are Tonight" and "Come Over."
Hear the acoustic version of his hit song, "Leave The Night On" below.
Chat About Sam Hunt Strips Down 'Hard To Forget' In New Acoustic Rendition