Travis Barker Roasts MGK For Not Getting Joke Within Blink-182 Album Name
By Eliot Hill
July 13, 2020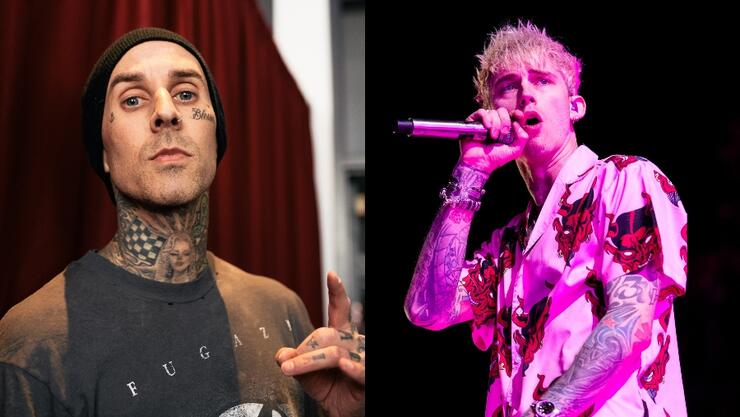 Blink-182's 2001 album, Take Off Your Pants and Jacket, gifted us with iconic songs such as "First Date," "The Rock Show," and "Stay Together for the Kids" and has been a staple in pop-punk playlists around the globe.
But apparently, even some of the band's friends, like Machine Gun Kelly, never caught on to the double entendre of the album's name. 
If you've been a blink-182 fan for any amount of time, you've quickly come to realize the band A) doesn't take anything seriously and B) will take any and every opportunity to make as many dirty (albeit funny) jokes as possible — and this starts with their albums.
Taking to Twitter on Sunday (July 12), Travis Barker roasted MGK for now just realizing, 19 years after its release, what Take Off Your Pants and Jacket really means.
"19 yrs later and @machinegunkelly just figured out what TAKE OFF YOUR PANTS AND JACKET meant," the blink drummer tweeted along with the crying/laughing emoji.
MGK took it in stride and replied to Barker joking, "do i have to leave the venue when you guys play those songs now?"
While it's a little NSFW, if you read the album name very slowly you'll probably be able to figure out the dirty joke within the name. Hint: it has to do with the last word being separated into two words.
Of course, Barker's tweet also prompted fans to admit they don't understand the double meaning of the name even after all of these years. Thankfully, other fans came to the rescue within the replies.
"I was today years old," one fan tweeted once they realized the meaning while another wrote, "I am beyond shocked on how I never got what it actually meant until now."
This isn't the first time blink-182 has had some fun with album names. The band's second release, Dude Ranch, also has double meaning which is too X-rated for us to explain but Mark Hoppus later said it was completely coincidental... sure it was.
Photos: Getty Images
Chat About Travis Barker Roasts MGK For Not Getting Joke Within Blink-182 Album Name