DJ Khaled Announces 12th Album, Drops 2 New Collabs With Drake: Listen
By Paris Close
July 17, 2020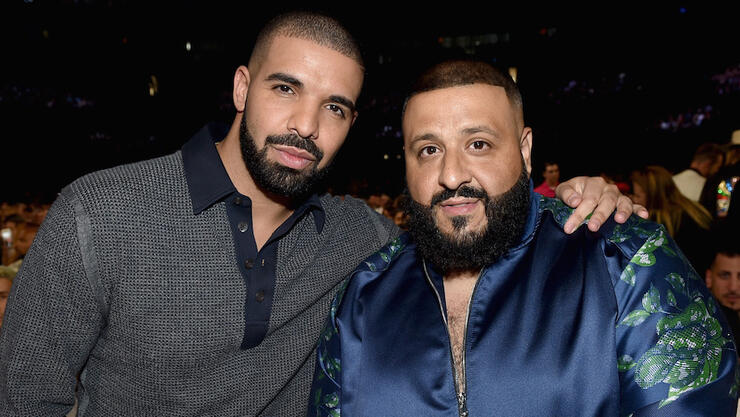 DJ Khaled has announced the name of his twelfth album — and it features two Drake collaborations.
The hitmaker took to Instagram on Thursday (July 16) to reveal his follow-up to last year's Father of Asahd will be titled, Khaled Khaled. Taking to Instagram, Khaled unveiled his forthcoming project in a 90-second video montage showing memories of his humble beginnings on the 1s and 2s to his massive rise to stardom. "MY ALBUM TITLE: KHALED KHALED," he shared. "MY 12th STUDIO ALBUM 🤲🏽 GOD IS THE GREATEST ALBUM MODE 🔑😤"
Additionally, Khaled provided audio snippets of both "anthems" featuring Champagne Papi, titled "Popstar" and "Greece," which will appear on Khaled Khaled. "SOME BOY DEM MAKE POP CHUNE WE MAKE CHUNE THAT GO POP! POP PON THEY HEAD!!," the record producer wrote, seemingly teasing lyrics to the former joint. "Great to collaborate wit the team prod @ozmusiqe we work AMAZING together ALSO BIG UP @ovo40 @ovonoel @chubbsview @futuretheprince @oliverelkhatib always great to work wit the OVO team. WE WORK AMAZING TOGETHER! DRAKE LUV FOREVER !"
As teased in other Instagram videos, the 44-year-old revealed the visual for "Popstar" will star Spanish actor-filmmaker Jordi Mollà, whereas "Greece" depicts a romance between Khaled and his love interest as Drake sings the hook. (See those teasers here and here.)
Khaled's latest album announcement comes just weeks after the DJ took home the award for Video Of The Year at this year's first-ever virtual BET Awards for his song "Higher" with Nipsey Hussle and John Legend.
On Drake's end, the "God's Plan" lyricist recently teased his new album is at least "80%" completed as of this month.
Hear DJ Khaled and Drake's new collabs below.
Chat About DJ Khaled Announces 12th Album, Drops 2 New Collabs With Drake: Listen