Megan Thee Stallion & Cardi B Are Twinning On Artwork For New Collab 'WAP'
By Hayden Brooks
August 4, 2020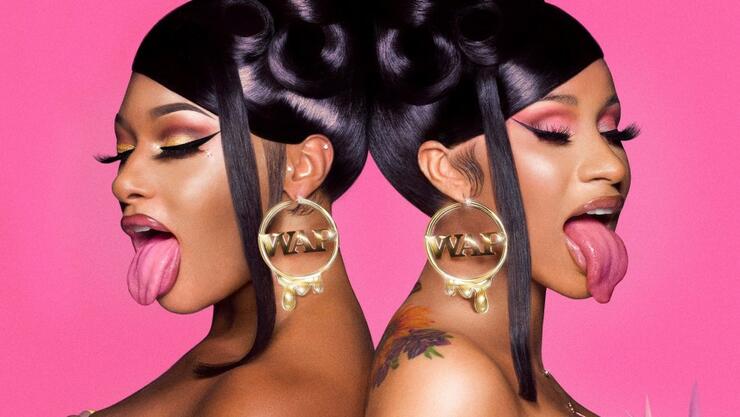 Megan Thee Stallion and Cardi B are pushing for that Song of the Summer accolade with their upcoming collab, "WAP."
On Monday (August 3), Hot Girl Meg took to Instagram to announce the team-up and share the artwork for the track, which was produced by Ayo n Keyz and drops on Friday. On the cover, the two appear back-to-back with matching hairstyles, earrings, make-up and facial expressions. With their tongues sticking out, the duo look like twins with their eyes shut and hands to their chests. "WAP," Meg captioned the post with a tongue out and a water droplet emoji. "@iamcardib and The Hot Girl Coach this Friday !!!"
Meg's newest collab follows the success of her remix of "Savage" featuring Beyoncé. Accompanied by its viral TikTok dance, the hit made its way to the top of the Billboard Hot 100, courtesy of the pop titan. As for Cardi, "WAP" marks the rapper's first lead single since the release of 2019's "Press."
"WAP" also marks Meg's first slice of new music since her traumatic night out, where she was allegedly shot in her foot by Tory Lanez. Afterward, Lanez was arrested and booked for possession of a concealed weapon, while Meg was admitted to Los Angeles' Cedars-Sinai Hospital for surgery. She's since come forward to call out the jokesters and offer some tearful memories of the evening, which she's described as "the worst experience of [her] life."
"I was shot in both of my feet," she recently admitted during an Instagram Live session. "I was shot in both of my feet and I had to get surgery to get the sh*t taken out, to get the bullets taken out. It was super scary … it was the worst experience of my life and it's not funny. It's nothing to joke about. It was nothing for y'all to start making fake stories about. I didn't put my hands on nobody. I didn't deserve to get shot. I didn't do sh*t."
Chat About Megan Thee Stallion & Cardi B Are Twinning On Artwork For New Collab 'WAP'