Michelle Williams Claps Back After Her Absence In Beyonce's 'Black Is King'
By Hayden Brooks
August 4, 2020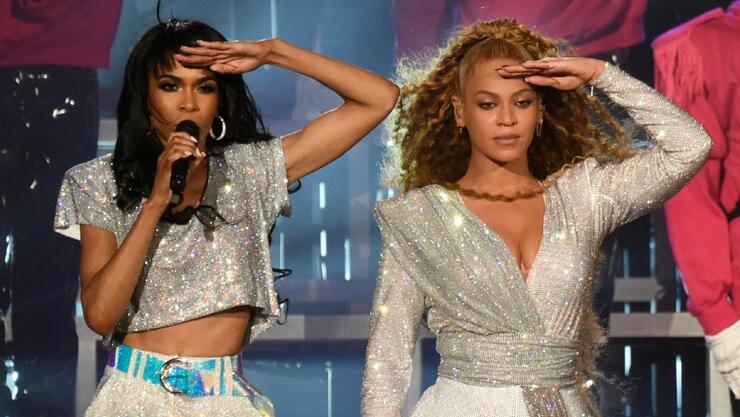 Michelle Williams seems content with her relationship with Beyoncé and no one can tell her otherwise.
After the Twitterverse started dissected the pop titan's new visual album, Black Is King, many were quick to wonder why Williams isn't featured in the Disney+ film. After all, fellow Destiny's Child alum Kelly Rowland appears front and center during the video for "Brown Skin Girl," but Williams had an answer.
In her own post, Williams showed the film some love, sharing a shot of her two former bandmates together, as well as some solo frames of Bey. "When you're trying to figure out what your favs are from #BlackIsKing!" the singer captioned the post, adding, "Ehhhhhhh just post 'em all!!" When one user inquired where she was in the film, Williams responded, "I'm in the upper right corner minding my business!" in reference to her default Insta photo.
Rowland is just one of the many cameos in the film, alongside Naomi Campbell, Lupita Nyong'o, Tina Knowles-Lawson, Pharrell Williams, among many of the album's featured artists. Based on the music from Bey's soundtrack album, Lion King: The Gift, the project celebrates Blackness in all kinds of lights through a reimagined lens for "today's young kings and queens in search of their own crowns. "The voyages of Black families, throughout time, are honored in a tale about a young king's transcendent journey through betrayal, love and self-identity. His ancestors help guide him toward his destiny, and with his father's teachings and guidance from his childhood love, he earns the virtues needed to reclaim his home and throne," reads the official description.
Chat About Michelle Williams Claps Back After Her Absence In Beyonce's 'Black Is King'