Watch Keith Urban's Flawless Cover Of Luke Combs' 'Even Though I'm Leaving'
By Blake Taylor
August 4, 2020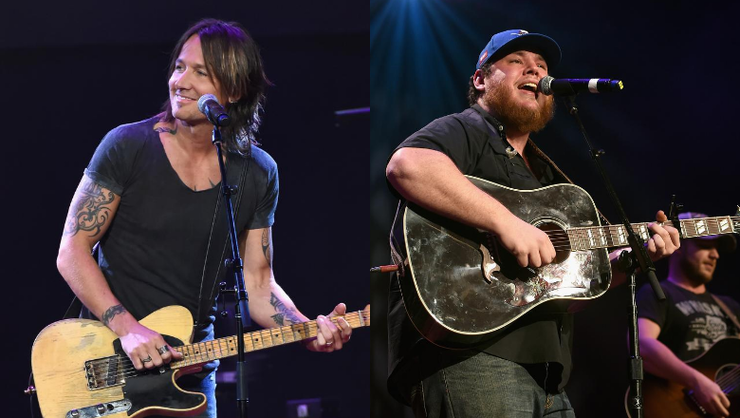 It's been an exciting week for Luke Combs!
Over the weekend he tied the knot to his longtime girlfriend Nicole Hocking and now country superstar Keith Urban is covering one of his songs. Urban turned to social media to share a video of him singing Combs' massive hit single, "Even Though I'm Leaving."
"Hey Luke....how much do ya MISS TOURING ?!!!," Urban captioned the post.
Combs quickly responded, writing, "Holy sh*t that sounds great buddy and I miss it A. LOT."
Comments from raving fans quickly poured in. One exclaimed, "KEITH COVERING LUKE COMBS. DAY MADE! MY TWO GUYS 😭❤️🔥" Another wrote, "THAT was much needed. Thanks for the music you keep putting out, and the videos!"
Some fans even began wondering if the two country superstars have something up their sleeves. "What does that mean?! Are we getting a tour with Luke Combs AND Keith Urban (hopefully next year!🤞🏼)," one fan commented. "What I'd give to see a Luke Combs & Keith Urban concert," another added.
Urban's cover also caught the attention of country music singer, Morgan Wallen, who commented, "Sounds da*n good brother."
Check out Urban's incredible cover of Combs' "Even Though I'm Leaving" below.
"Even Though I'm Leaving," co-written by Combs himself alongside Wyatt B. Durrette and Ray Fulcher hits home for anyone who has lost, or is missing, their dad or any loved one.
"Just 'cause I'm leavin' / It don't mean that I won't be right by your side / When you need me / And you can't see me in the middle of the night / Just close your eyes and say a prayer / It's okay, I know you're scared when I'm not here / But I'll always be right there / Even though I'm leavin', I ain't goin' nowhere," the chorus goes.
The emotional song, which marked Combs' seventh consecutive No. 1 single, is featured on his sophomore album, What You See Is What You Get.
Photo: Getty Images
Chat About Watch Keith Urban's Flawless Cover Of Luke Combs' 'Even Though I'm Leaving'