Metallica Has Committed $1.5 Million In Donations To Community Colleges
By Andrew Magnotta @AndrewMagnotta
August 12, 2020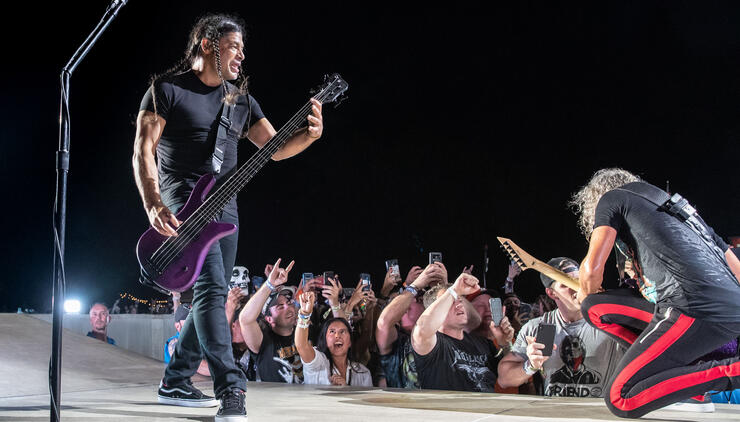 Metallica has committed $100,000 donations to the career and technical education programs of 15 community colleges in the U.S. through the band's All Within My Hands foundation.
"Created in 2019 through a partnership between AWMH and the American Association of Community Colleges (AACC), ten colleges from communities that support Metallica during the band's recent U.S. tours were selected, with each receiving $100,000 toward programs designed to support students training to enter the American workforce," the foundation said in a statement. "This incredible inaugural year resulted in more than 700 first-wave Metallica Scholars with an overall 80-90% program completion rate, and a 93% job placement for those who completed their certifications/studies!"
The charity also announced a new partnership with Michigan-based Wolverine Footwear and Apparel, which will provide scholarship funding, as well as clothes and boots to students. Three schools, Grand Rapids Community College, Lone Star College and WSU-Tech, will receive a $100,000 joint grant from Wolverine and Metallica Scholars in addition to the other donations.
AWMH added that a recent raffle for a set of metal coffee tables handmade by frontman James Hetfield generated over $75,000 in donations, all of which will benefit three schools with metalworking curricula.
The 15 community colleges to benefit from the Metallica Scholars Initiative are:
Alvin Community College, Texas
Elizabethtown Community and Technical College, Kentucky
Polk State College, Florida
Valencia College, Florida
Westchester Community College, New York
Central Piedmont Community College, Charlotte, North Carolina
Clackamas Community College, Oregon City, Oregon
College of Lake County, Grayslake, Illinois
Community College of Baltimore County, Baltimore, Maryland
Gateway Technical College, Kenosha, Wisconsin
Grand Rapids Community College, Grand Rapids, Michigan
Lone Star College, The Woodlands, Texas
North Idaho College, Coeur d'Alene, Idaho
Spokane Community College, Spokane, Washington
Wichita State University Campus of Applied Sciences and Technology, Kansas
Photo: Getty Images
Chat About Metallica Has Committed $1.5 Million In Donations To Community Colleges