DNC 2020: John Legend, Jennifer Hudson, Common & More To Perform
By Paris Close
August 14, 2020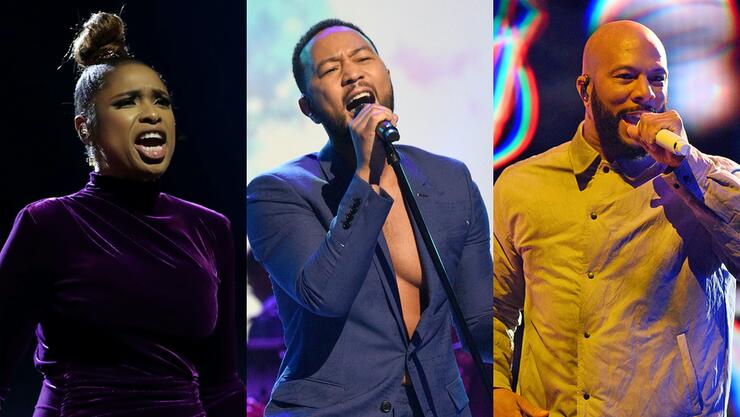 John Legend, Jennifer Hudson, Common and more music acts will perform at the 2020 Democratic National Convention.
The lineup was officially announced on Friday morning (August 14), with the four-day event kicking off in Milwaukee next Monday (Aug. 17-20) with a star-studded performers' roster including Leon Bridges, The Chicks, Billie Eilish, Maggie Rogers, Prince Royce, and Stephen Stills.
These performers are scheduled to deliver American classics, the National Anthem, and a number of new songs at various remote locations during the program, due to the ongoing coronavirus pandemic.
The convention will celebrate the nomination of Democratic presidential candidate, former Vice President Joe Biden, and his VP pick, California Sen. Kamala Harris, as the presidential ticket against President Donald Trump.
Harris will speak on Wednesday (August 19), with Biden to accept his nomination the following day in a speech that will broadcast from Deleware.
Every night will feature a lineup of national leaders including Former Pres. Barack Obama and First Lady Michelle Obama, Former Pres. Bill Clinton and Sec. of State Hillary Clinton, Rep. Alexandria Ocasio-Cortez, Pres. Bill Clinton, House Speaker Nancy Pelosi, Sen. Elizabeth Warren, Sen. Amy Klobuchar, NY Gov. Andrew Cuomo, Sen. Bernie Sanders, Pete Buttigieg and Atlanta Mayor Keisha Lance Bottoms.
"In just three days, we will kick off a Democratic National Convention that will look and feel very different than past conventions," this year's DNC program executive Stephanie Cutter said in a statement. 
Cutter continued: "It will truly be a convention across America, and these incredible artists will help us tell the story of where we are as a country today under Donald Trump's failed leadership, and the promise of what we can and should be with Joe Biden as president. These artists are committed to engaging with, registering and mobilizing voters to get us over the finish line in November."
The 2020 Democratic National Convention airs nightly (9-11 p.m. ET) starting Monday through Thursday. See the full convention schedule here.
Photo: Getty Images
Chat About DNC 2020: John Legend, Jennifer Hudson, Common & More To Perform