Slash Is An 'Inspiration' To Play With, Says Guns N' Roses' Richard Fortus
By Andrew Magnotta @AndrewMagnotta
August 21, 2020
Longtime Guns N' Roses guitarist Richard Fortus couldn't be happier to have Slash and Duff McKagan back in the band they helped create.
Fortus tells Premier Guitar that his role in GNR has changed numerous times from when he joined in 2002, but it's never been better for him.
Aside from seeing the size of the band's concerts expand dramatically since the 'Not in This Lifetime' tour began, Fortus says being Slash's counterpart has been more creatively fulfilling than he had previously imagined.
Throughout the Chinese Democracy years, Fortus explains that there was pressure on the band to perfectly replicate the playing of its classic-era members on the older material. But Slash and McKagan's return in 2016 reconnected the band to its most-beloved work. Fortus says that authenticity allowed for "more openness" and room for him to play the songs the way he naturally feels them.
"It's been very interesting because as different players come and go, my parts morph and change to cover different parts," he said. "So it's constantly evolving. Obviously, when Slash came in, the parts of his that I was playing I wasn't gonna be playing anymore. (Laughs) But he's been incredible gracious with me as a player."
Fortus recalls friends joking that he'd be locked into a very specific type of playing with Slash back in the band, but that's not been the case.
"...[Friends] of ours were like, 'Man, good luck getting to be on the fifth fret.' (Laughs) But I have not experienced that at all," he continued. "He's been incredibly gracious and really an inspiration to play with. It's very competitive in a very, very friendly, same-team type of way — always pushing each other — which I am flattered to be in that role, and for him to welcome it."
Slash himself has spoken highly of Fortus and longtime GNR drummer Frank Ferrer.
The Rock and Roll Hall of Famer told Chris Jericho's Talk Is Jericho podcast in 2018 that he immediately "felt really comfortable" being added to the lineup Axl Rose had in place.
"Even in the '90s [for the Use Your Illusion albums], we didn't have the original lineup, so it wasn't something we were going, 'Oh my god' about," he added at the time.
Photo: Getty Images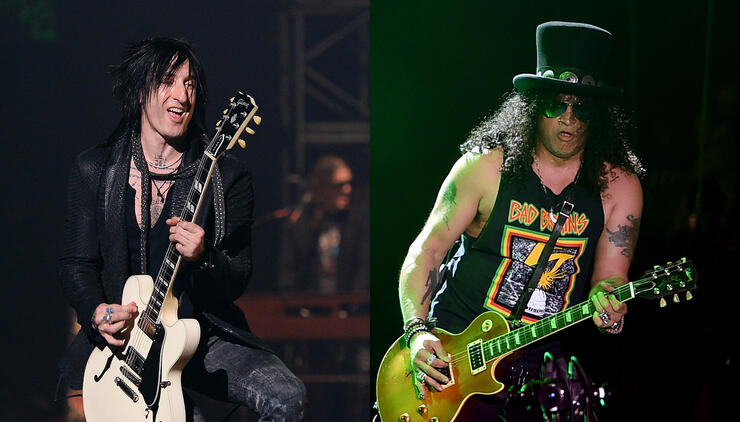 Chat About Slash Is An 'Inspiration' To Play With, Says Guns N' Roses' Richard Fortus